Statewide Gas Flaring Falls to Lowest Rate in Years
In July, the statewide flaring rate in Texas fell to its lowest rate in years according to Railroad Commission data, falling by more than 75 percent since August 2019.
The Commission's recent production data report shows that the percentage of natural gas flared fell from a high of 2.33 percent in August 2019 to 0.57 percent in July 2021 (see below). Overall, the average percentage of natural gas flared has remained under 2 percent for nearly two years, giving Texas one of the lowest in flaring rates among large oil and gas producing states in the country.
"This is great news for Texas, but it's not surprising," said Commissioner Christian after reviewing the report. "The drop in the flaring rate here in Texas follows a cooperative effort between the Railroad Commission and oil and gas companies to find innovative technological solutions that would result in less gas being flared and more gas being beneficially used to heat our homes, cook our food, and make products we use every day. Unsurprisingly that process has worked because whenever government works with private business, instead of against it, we can solve problems."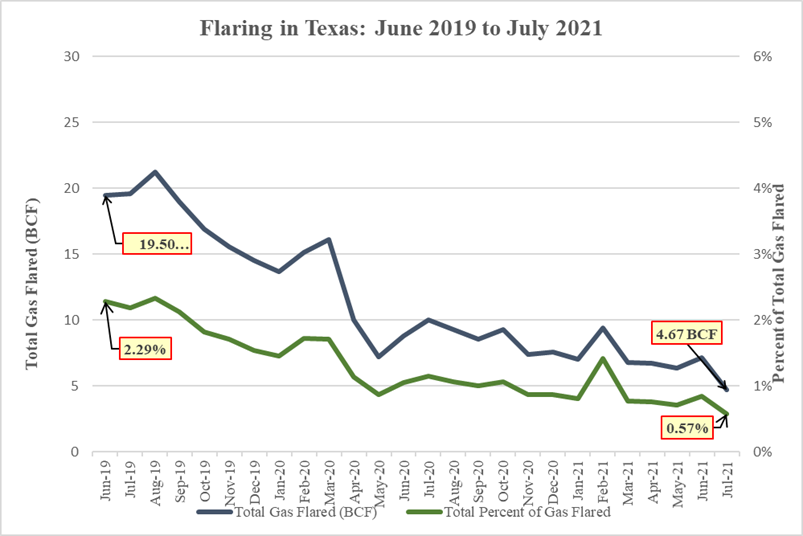 A lifelong conservative businessman, Wayne Christian was elected as our 50th Texas Railroad Commissioner in November 2016. Prior to his time at the Commission, Christian served seven sessions in the Texas House of Representatives, accumulating a strong record of standing for free markets and against burdensome regulations. Christian is married to his wife, Lisa, and together they have three daughters, Liza, Lindsey and Lauren. You can learn more about Commissioner Christian here .