Spring Branch superintendent claims lawmakers won't adequately pay per student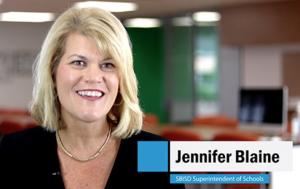 This week, Spring Branch Superintendent Dr. Jennifer Blaine, Ed. E., sent a worrisome message to district families.
The message was simple, the district may need to cut $50 million from the 2023 – 2024 school year if lawmakers don't increase funding for the basic allotment.
The Texas Education Agency describes the basic allotment as, "the legislatively mandated apportionment of funds from the general revenue funds that go to each school district to provide a basic level of education for the district's residents."
Blaine shares, from her understanding, legislators are looking at increasing the basic allotment anywhere between $50 to $90, far below the $1,000 per student she says is necessary.
"We find this insulting and so should you," Blaine said in the letter. "The proposed legislation sends the message that our efforts have not been taken seriously."
Blaine said if the legislature does not increase the basic allotment by at least $1,000 the district would have to consider the following:
Combine schools/change boundaries

Change staffing models, including class sizes

Eliminate 10-20% of SBISD staff

Remove the 20% local optional homestead exemption

Discontinue the block schedule model for Stratford High School

Reduce programming and/or institute pay-to-play models for athletics, performing and visual arts

Discontinue choice and specialized programs

Cut safety and security, counseling and mental health services

Cut centralized instructional supports, including but not limited to, interventions, Dyslexia services, and college and career counseling

Cut business and operations functions that support the district's safety, security and fiscal management
"We do not want to consider these drastic measures, but if the Legislature does not raise the basic allotment by at least $1,000, we will have no choice," Blaine said.
The Board of Trustees would be the ones to make those cuts if it were necessary. The president, Chris Earnest, says if they had to make $50 million in cuts, it would bring the district to the "bones."
"The current student allotment right now is $6,100," Earnest said. "They're pushing private school vouchers at $8,000 a kid. So, what I've been pushing for is how in the world is that not the same? Fund public school students the same way you're pushing to fund private school students and let's all compete for that money. We're not afraid of competing and those dollars. If you fund our students, the same way you're pushing to fund private school students and so I think we would come out ahead in a lot of cases."
In an interview with KPRC 2, Blaine said Senate Bill 4, which unanimously passed in the Senate and would cut the school property tax rate, wouldn't help the district.
"That action does not put more money in public education," Blaine said. "By the very virtue of reducing our recapture payment by $25 million, it's not that we get that $25 million back, we never see it. Our taxpayers will benefit from it and that's great, but we will never see that $25 million."
The district gave parents a call to action: Reach out to legislators and convince them to increase the basic allotment.
Source: click2houston.com