Splice Records Announces Music Lineup and Sponsors for Fifth Annual River Revival Music Fest Sept. 26 – 29; Tickets on Sale Now
Texas-based independent record label Splice Records announces a fantastic music lineup for their fifth annual River Revival Music Fest taking place the weekend of Sept. 26 – 29, 2019, once again along the Guadalupe River at the KL Ranch Camp "On the River" and "Cliffside" campgrounds in quaint and beautiful New Braunfels, Texas. This year's lineup will include: JD McPherson, Shinyribs, Golden Dawn Arkestra, Sweet Crude, Piñata Protest, Folk Family Revival, Johnny Falstaff, Swimwear Department, Madeline Edwards, Aaron Stephens, Walk Talk, Grand Old Grizzly, DEM, The Jones Family Singers, The Iceman Special, Pearl Earl, John Evans, Pecos Hank, Mighty Orq, Sara Van Buskirk, Texture:Yellow, Leigh Sinclair, Nico and Jay Bee Zay. To hear a preview of the music that will be featured at the fest, see the River Revival 2019 playlist on Spotify and Apple Music and music videos from the artists on YouTube. The fest will also feature numerous DJs including Vinyl Ranch, DJ Chaney, Blue Heron Yacht Club and the Foxy Boxes as well as art from @Ohnohedint, Black Cassidy, @Inputoutput and Alex Ramos. Chef Jason and Becca Kerr with Little Kitchen HTX will be returning to River Revival and providing all the meals for festival attendees. River Revival also welcomes back the campground afterparty Zen City, presented by The Corner Pub. Tickets to River Revival 2019 are now on sale and can be purchased here. For more on River Revival, see here: www.RiverRevival.net.
The lineup this year will feature a headliner for each night with Splice Records' favorite live performers, including JD McPherson playing Saturday, Shinyribs on Friday night and the always shockingly beautiful performance of Golden Dawn Arkestra on Thursday.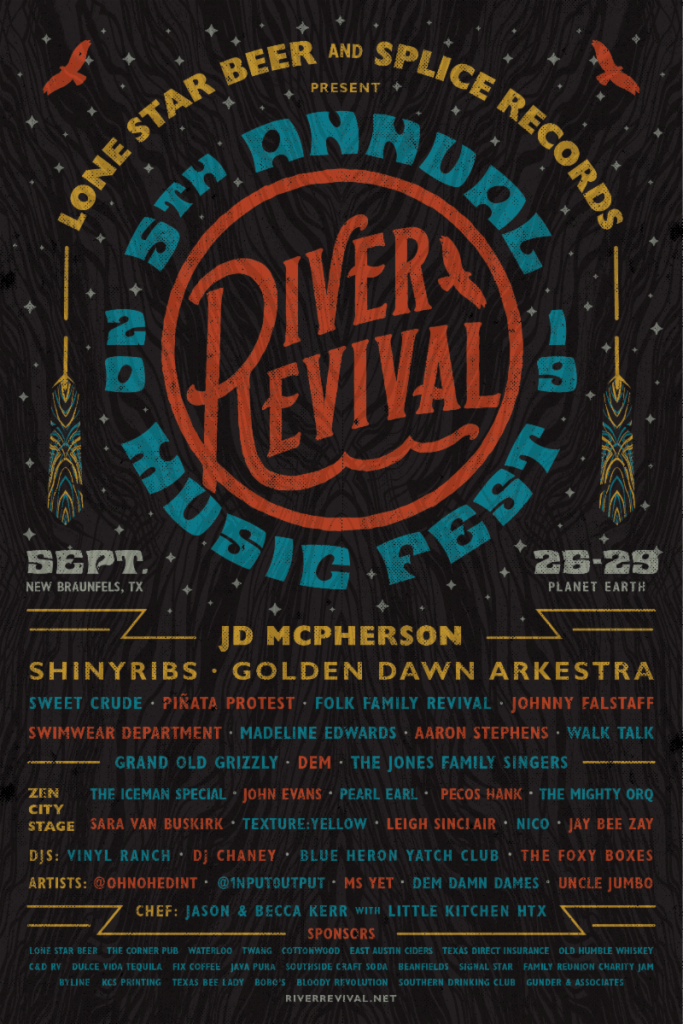 "Year five will feature some new additions to the festival like our Sunday Gospel Brunch with the Jones Family Singers and the expansion of Folk Family Revival's Zen City tent," said Splice Records CEO Shaun Brennan."The Corner Pub stage will have some daytime music, some late night shows, fire dancing, and we will end Saturday night with DJ Vinyl Ranch! There is so much to look forward to this year that will make this year the best River Revival yet."
Splice Records has also announced the sponsors for this year's festival including: Lone Star Beer, The National Beer of Texas, The Corner Pub, Deep Eddy Vodka, Waterloo sparkling water, Twang, Byline Houston, CottonWood, East Austin Ciders, Texas Direct Insurance, Old Humble Whiskey, C&D RV, Dulce Vida Tequila, Fix Coffee, Java Pura, The Family Reunion Charity Jam, Southside Craft Soda, Beanfields, Kaelin Custom Signs and Printing, Texas Bee Lady, BoBo's, Bloody Revolution, Southern Drinking Club, Gunder & Associates and Signal Star. Vendors include Southern Drinking Club, Massage Therapy, Henna, Hider Houseand more. This year, Splice has teamed up with RestPit, a nonprofit 501(C)(3) organization whose Mission is to provide fact-based education, supplies, and peer-to-peer support to reduce harm at music related events, to provide assistance at the festival.
Five years ago, Splice Records founded River Revival Music Festival in an effort to create the ultimate camping trip for its attendees and to provide a place to discover great music, camaraderie and new experiences, all the while relishing in the immense beauty that Texas nature has to offer. The fest features music genres such as folk, Americana, rock 'n' roll, honky-tonk, Latin rock, funkadelic, soul and Southern roots music. Previous River Revival Music Festivals have featured artists such as Jackie Venson, Pimps of Joytime, the Suffers, Cedric Burnside, Tomar and the FCs, Buxton, Folk Family Revival, Rosie Ledet, Bonerama, John Evans and Alvin Youngblood Hart.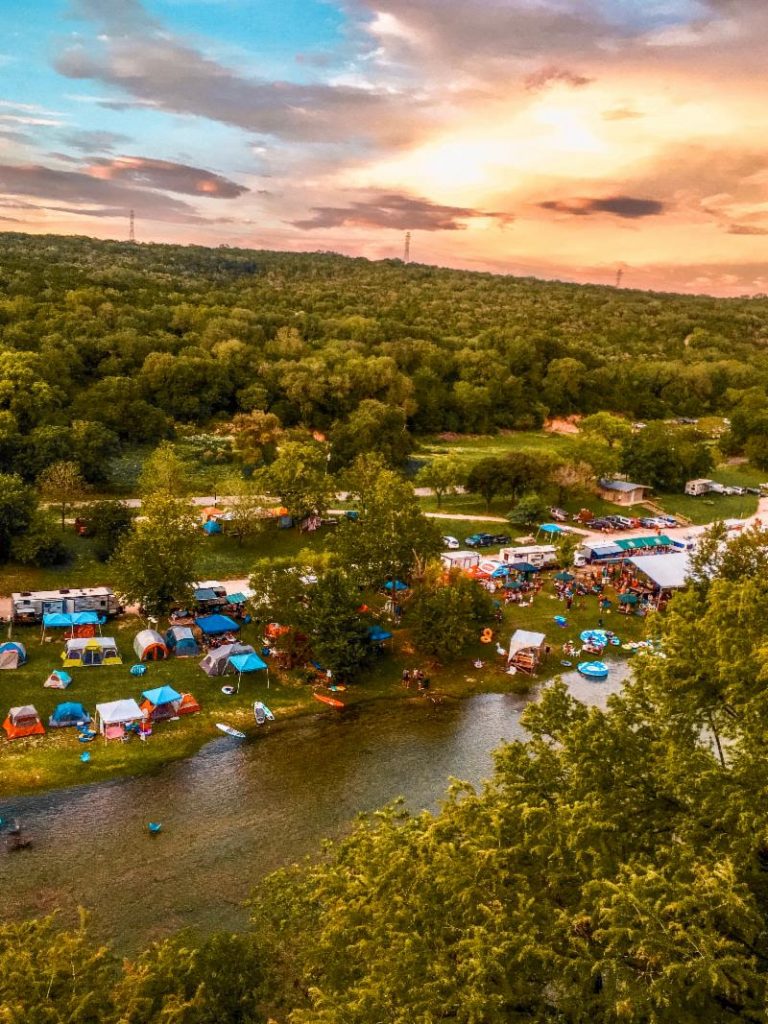 With a max capacity of 750 campers, festival-goers become a tight-knit family through a shared love for music, nature and good vibes. Each admission is an all-inclusive ticket that provides attendees with a one-of-a-kind experience where meals, beverages and campsite are all included in the ticket purchase.Early bird ticket prices start at $249 for a three-day pass, $199 for a two-day pass and $99 for a one-day pass. This year, one-day passes will be available for all three days of the festival. Child admission will be priced at $29 (six years old and older) and children under five are free. Child admission for one, two or three-day passes are also available. Families with children will be assigned a campsite in the family area or across the street at the quieter K&L Cliffside. Camper/motorhome sites can be reserved at KL Ranch Camp "On the River or "Cliffside" for $109 – $159. Vendor and sponsorship opportunities are still available. If interested, please contact Splice Records at splicerecordsllc@gmail.com. For more information, please see here.
Each year, Splice Records makes it their mission to establish a community of kindred spirits at River Revival. With an impeccable food program, amazing music lineup, intimate campfire concerts, hiking, river floating, canoeing, various workshops, morning yoga sessions, kids music class, activities and puppet shows, natural live art exhibits by Black Cassidy, fire dancing, festival giveaways and prizes and more, River Revival is an unmatched music festival experience.
River Revival Weekend Activities:
LIVE MUSICMAIN STAGE: every evening Thursday – Saturday until midnightLATE NIGHT FIRESIDE: Concerts and dance parties set from 12:30 – 3 a.m.SUNDAY GOSPEL BRUNCH: 10:30 a.m. – noon on Sunday, Sept. 29DAY TIME FIRESIDE: Concerts at "ZEN CITY," 2 – 5 p.m. (Friday and Saturday only)FOR THE ACTIVE: Hiking, tubing, canoeing, paddle boarding, kayaking, swimming, rope swings and fishing.WORKSHOPS: Nature walks, Texas Bee LadyYOGA: Morning Yoga Sessions from Hi-Lo Kick Studio with Christi Workman and Black Swan Yoga with Jennifer BroadwellKIDS ACTIVITIES: Interactive Kids Music and Arts and Craft on Saturday from 11 a.m. – 1:30 p.m. with Uncle JumboART: featuring a new designed campgroundsFire dancing by Ye TorresLive art installations and projections by InputOutPut and Alex Ramos, Black Cassidy, and more.GROUP FLOAT: This is provided by an outside outfitter at an extra cost. Tube rental, pickup and drop off are included with an additional price when you purchase your ticket at check out.FLOAT PARADE: On Saturday, there will be a float competition and parade down the river. There will be live judging and prizes for the most creative float.RIVER REVIVAL RADIO: Live radio broadcast from the campgrounds hosted by comedian, DJ and River Revival master of ceremonies Mills-McCoin – Commodore of Blue Heron Yacht Club. Guest DJs will perform throughout the weekend.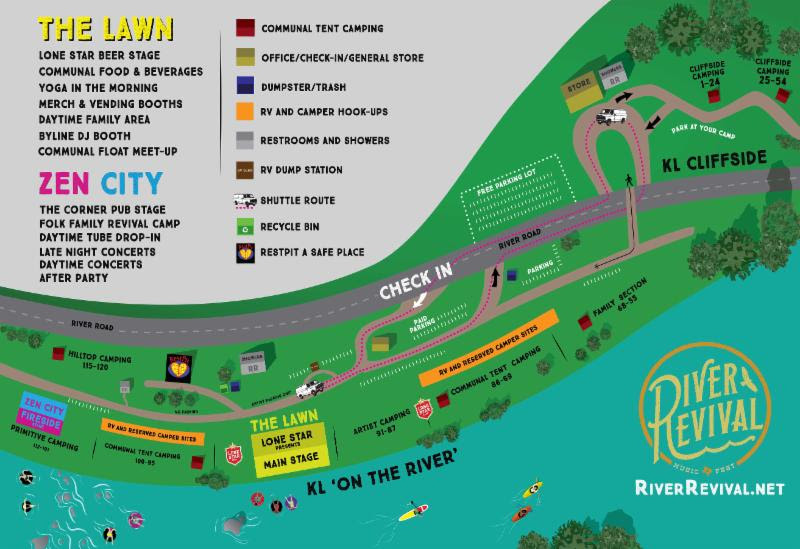 River Revival Giveaways and Prizes:
Most Creative Campsite AwardTent and campsite creativity encouragedKing & Queen Campers AwardsMost enthusiastic attendees will be crownedShould've Been at Woodstock AwardMost down to earth hippy soulMost Creative Float in the Saturday Float ParadeThe Float Parade awards the most creative themed tube or flotation deviceCampground Scavenger HuntGet as many task completed. Grab your task at the Merch table and turn in on Saturday by 2 p.m.Most Colorful Style AwardCostumes and brightly-colored attire encouraged
About Splice Records:
Splice Records was founded in 2014 by a Texas businessman and film producer Shaun Brennan. Since the label's launch, Brennan has continued to expand the label by signing Criag Kinsey, Pecos Hank Schyma, John Evans, Ancient Cat Society, Arthur Yoria, Bayou City Funk, Tomar and the FCs and Folk Family Revival. For more information on Splice Records, please see: www.splicerecordstx.com.