Southwest to begin flying out of both Bush Intercontinental and Hobby Airports
"As Southwest approaches a commemoration of 50 years of flying, the carrier intends to return to Houston George Bush Intercontinental Airport."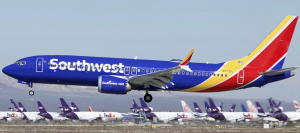 HOUSTON — Longtime Houstonians know and pretty much assume that if someone says they are flying to or from Hobby Airport, then they are likely taking a Southwest flight.
But that won't always be the case anymore.
Southwest Airlines on Monday announced that it is adding service at two big international airports: Houston George Bush Intercontinental (IAH) and Chicago O'Hare.
This won't be the first time the airline as flown out of IAH, however. Southwest originally operated out of Bush, known then as Houston Intercontinental Airport, when the airline opened in the 1970s.
The airline says the addition of service at IAH will "compliment" its service at Hobby, which means flights will continue there as well.
Statement on the Houston expansion from the airline:
"As Southwest approaches a commemoration of 50 years of flying, the carrier intends to return to Houston George Bush Intercontinental Airport (IAH), complementing its substantial operation at Houston Hobby (HOU). Intercontinental served as one of three airports where Southwest operated on its first day in operation, June 18, 1971. The carrier moved to Hobby Airport shortly thereafter though it operated service from both airports between 1980 and 2005. Southwest remains a key employer in the City of Houston, providing nearly 4,000 jobs. "
Bush Airport service is expected to begin early in 2021. Further details about the schedules and fares was not immediately released.