Southwest Houston Gas Leak Cleared
Houston firefighters and CenterPoint officials responded to a natural gas leak caused by a broken underground pipe in Southwest Houston.
The three-inch pipe was broken by an excavator while construction was underway on S. Shepherd Drive near U.S. 59, according to the fire department.
Multiple HFD crews, including HFD Hazmat, responded at 8:47 a.m. Wednesday morning. The hazmat team is currently monitoring air quality in the area.
Officials did not implement a shelter-in-place, but the fire department advised residents to avoid the area. There have been no reported injuries, according to HFD.
The situation was declared mitigated by the fire department at around 1:10 p.m. Wednesday afternoon.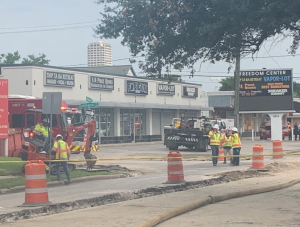 The fire department said nearby freeway lanes would reopen, but the southbound feeder road at Shepherd would remain closed for repairs.
In an email, a spokesperson for CenterPoint Energy said the company was aware of the gas leak and was on site with first responders.
"CenterPoint Energy is aware of a hit natural gas line on S. Shephard and U.S. 59 that is causing a natural gas leak," the email read. "At CenterPoint Energy, safety is our top priority and our crews are on site working with first responders to secure the area. We appreciate our customers' patience and apologize for any inconvenience."
Source: www.houstonpublicmedia.org