Southern border braces for a migrant surge with Title 42 set to expire this week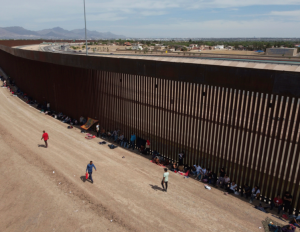 The United States is bracing for the expiration of a pandemic-era border restriction this week, with officials fearing it will spur a surge of migrants and exacerbate an already challenging humanitarian crisis at the southern border.
"No matter how much we are prepared, I don't think we are going to be prepared enough," John Martin, deputy director of the Opportunity Center for the Homeless in El Paso, Texas, told CNN on Sunday, days before the lifting of Title 42, a Trump-era policy that allowed the government to quickly turn away certain migrants at the border, originally with the aim of stopping the spread of Covid-19.
"I wanted to emphasize more so than anything else at this point – this is a national issue," Martin said. "We in El Paso, along with many other communities along the southern border, just happened to be at the front doorstep."
While first implemented under the Trump administration as a response to the pandemic, Title 42 has been kept in place by the courts and used by the Biden administration to deal with migrants at the border.
That will change Thursday, when the public health emergency – and Title 42 along with it – is set to lapse amid unprecedented mass migration in the Western Hemisphere.
"This is an international issue," Father Rafael Garcia, a priest who runs a shelter at an El Paso church whose surrounding streets have become a camp for hundreds of migrants. "And we're just like the neck of the bottle, or funnel."
US Customs and Border Protection has already seen an uptick in migrants crossing the border with Mexico, with more than 8,000 daily encounters, according to a Homeland Security official – a number that officials predict could reach 10,000 once Title 42 is lifted. There are around 25,000 migrants in custody, the official said, straining processing facilities that are already over capacity.
"I think that there is no question that this is going to be extremely challenging," Department of Homeland Security Secretary Alejandro Mayorkas said Friday in Brownsville, Texas, during a visit to the Rio Grande Valley. "I do not want to understate the severity of the challenge that we expect to encounter."
But federal officials have long been preparing for the end of Title 42, Mayorkas stressed, saying the government was ready.
"We have a plan. We are executing on that plan."
Still, in a news conference Monday morning, Texas Gov. Greg Abbott likened the expiration of Title 42 as the laying out of a welcome mat to migrants across the world, signaling to them America's borders are wide open.