Severe Weather Leaves Hundreds of Thousands Without Power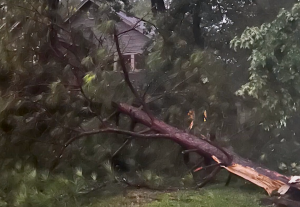 A string of intense storms that blew through the Greater Houston area on Wednesday evening left more than 300,000 CenterPoint Energy customers in the dark at the height of the severe weather.
As of Thursday morning, about 160,000 people were still waiting for their power to be restored, according to CenterPoint Energy's outage tracker.
The storm system moved southward from Dallas and arrived in the area around 9 p.m. It brought heavy rainfall and high wind speeds, around 60 mph. One of the local airports, George Bush Intercontinental, reported wind gusts up to 97 mph on the tarmac.
Damage from these conditions included downed trees and large branches but occurred mainly north of Houston in Spring, The Woodlands and Tomball.
A ground stop was issued around 10 p.m. on Wednesday to all inbound and outbound planes at Bush because of the thunderstorms. Although there were several delays and cancellations as of Thursday morning, operations appeared to be back to normal, according to FlightAware.
Space City Weather reported that these storms were not expected but held their intensity as they moved toward the region. They caused the high temperatures to drop into the mid-70s; however, this will not last too long.
Storms have a chance of picking up again on Thursday in the afternoon hours but are more likely to occur northwest of the area. There is a 50 percent chance of rainfall expected north of Interstate 10. Otherwise, the day will be partly sunny, with highs in the mid-90s.
Friday, the break in triple-digit heat continues, with highs again in the mid-90s. Morning showers are possible, but the chances are even lower than Thursday, around 20 percent, as forecasts indicate.
The brief pause in warmer weather ends at the start of this weekend, as temperatures will begin to climb back up to a little over 100 degrees. This extreme heat will continue into next week.
Source: www.houstonpress.com