Senior citizens targeted for bank card scams at ATMs across NYC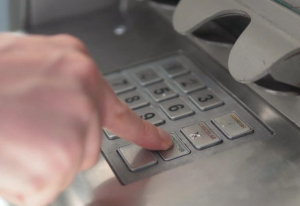 A crew of Citibank debit card scammers working across the five boroughs has been targeting elderly victims by distracting them and then stealing their ATM cards and thousands of dollars in cash, according to the NYPD.
The thieves, who appear to be middle age, approach the seniors as they withdraw money and divert their attention by asking them if they've dropped cash, police said Monday. Sometimes the grifters drop a twenty-dollar bill on the ground to take their mark's attention away from the cash terminal.
While the victims are distracted, the suspects swap their ATM cards for dummy cards. Members of the crew scope out the victims and get their pin numbers from previous withdrawals. They then use the real cards to plunder the elderly victims' accounts, according to cops.
In the first reported instance on Feb. 3, a 79-year-old man in Starrett City, Brooklyn, was at the 1388 Pennsylvania Ave. branch of Citibank when two people approached him. After the misdirection, the target discovered that $5,290 had been withdrawn from his account, police say.
More than a week later, the crooks struck again, this time taking $4,500 from a 93-year-old woman in Forest Hills, Queens, according to cops.
Between Feb. 15 and Feb. 24, the thieves struck seven more times, targeting victims ages 60 to 88 at Citibank ATMs in Jackson Heights, Greenpoint, Ridgewood, Brooklyn Heights and Starrett City three more times. During this spree, they netted their biggest single haul, of $21,500, cops said.
Police did not say why the thieves appeared specifically to target Citibank ATMs.
In March the crew continued their scam, hitting a geographically diverse group of neighborhoods of Yorkville in Manhattan, Parkchester and Riverdale in the Bronx and, finally, East Flatbush, Brooklyn.
In all, the scammers pulled in about $77,000, according to cops.
Investigators have released ATM screen grabs of the suspects from three of the incidents, but in all the photos the men are wearing baseball caps and medical masks, making them hard to identify.