Second American dies in Sudan amid fighting, U.S. confirms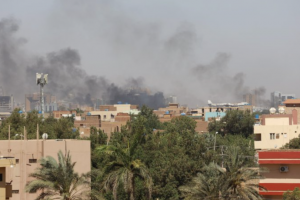 A second American citizen has died in Sudan amid clashes between two rival generals, National Security Council spokesperson John Kirby confirmed Wednesday.
"We extend our deepest condolences to the family," Kirby said in a call with reporters. "We continue to make clear at the highest level of our government to the leadership of both the Sudanese Armed Forces and the Rapid Support Forces that they are responsible for ensuring the protection of civilians and noncombatants, including people from third countries and humanitarian staff that are working to save lives."
Kirby said the person died Tuesday but did not confirm their identity. However, the Sudanese American Physicians Association said on Tuesday that Bushra Ibnauf Sulieman, a doctor who practiced medicine in the U.S. for a number of years before returning to Sudan, had been killed earlier in the day. The group said he had been on the frontlines providing emergency medical aid during the conflict and was killed outside his home while escorting his father to a medical appointment.
Sulieman was a professor of internal medicine and director of the faculty of medicine at the University of Khartoum, the association said.
Kirby said a 72-hour ceasefire brokered by the U.S. that began late Monday has mostly held, though there has been some violence between forces controlled by Gen. Abdel Fattah al-Burhan, who leads the Sudanese Armed Forces, and Gen. Mohamed Hamdan Dagalo, who is in charge of the Rapid Support Forces paramilitary group.
"We've said this many, many times, but the violence is simply unconscionable and it must stop," Kirby said.
The U.S. military evacuated American personnel from the embassy in Khartoum over the weekend and President Biden confirmed embassy operations were "temporarily" suspended.
Before the ceasefire, Americans in the country had been urged to shelter in place. Kirby said Wednesday that the U.S. is "actively facilitating the departure of a relatively small number of Americans who have indicated to us that they want to leave."
"We continue to deploy U.S. intelligence, surveillance and reconnaissance assets, unmanned assets to support land evacuation routes, which Americans are using, and we're still moving naval assets within the region to provide support along the coast and offer Port Sudan," he said. "American citizens are arriving in Port Sudan and we're helping to facilitate their onward travel as appropriate."
Source: www.cbsnews.com