Russia claims U.S. planned alleged drone attack on Kremlin as Ukraine's civilians suffer the retaliation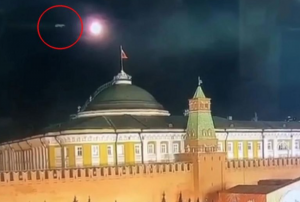 Russia attacked several Ukrainian cities with explosive drones overnight, though Ukraine said Thursday that it had managed to shoot most of them down. Russia called the attack payback for what it claims was an alleged attempt by Ukraine to attack the Kremlin in Moscow using drones on Wednesday.
The Kremlin claimed the attack was an attempt by Ukraine to assassinate President Vladimir Putin and, on Thursday morning, Russia's government accused the U.S. of planning it.
President Volodymyr Zelenskyy denied any Ukrainian role in an attack on the Kremlin, insisting that his country's forces were acting only to defend Ukraine's sovereign territory — though there has been evidence over the last week that they're also stepping up attacks, using drones, on Russian infrastructure, both in occupied territory and across the border inside Russia.
Russia quickly vowed to retaliate for the alleged double drone strike, calling it a "planned terrorist act." The Kremlin said both drones were shot down before they struck Putin's official residence, but it has offered no evidence to back up its claims.
U.S. officials have been working to confirm the origins of the alleged drone attack, but a State Department spokesperson said Wednesday that he would "take anything coming from the Kremlin and the Russian Federation with a shaker of salt."
In Moscow, Kremlin spokesman Dmitry Peskov on Thursday dismissed the pleas of ignorance from both Ukraine and the U.S. as "ridiculous."
"We know very well that decisions on such actions and such terrorist attacks are made not in Kyiv, but in Washington," he said, claiming that Ukraine was "doing what it is told to do" by the U.S. and alleging that Ukraine's military objectives "are not determined by Kyiv, but they are determined in Washington, and then these goals are brought to Kyiv so that Kyiv fulfils them."
"Washington must clearly understand that we know it," Peskov said.