Rockets rookie Amen Thompson finds strength, role model in older brother Troy Thompson Jr.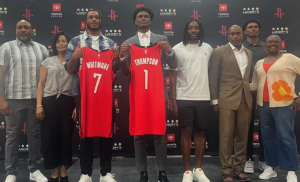 As Amen Thompson, whom the Houston Rockets selected with the No. 4 overall pick in the 2023 NBA draft, walked into Toyota Center for his introductory press conference, he was led by his family. That group included his parents, Maya and Troy Thompson Sr.; his identical twin brother, Ausar, who was drafted one spot after Amen by the Detroit Pistons; and older brother Troy Thompson Jr., one of his biggest inspirations to play basketball.
Laying the foundation for hard work and dedication, Troy, who is eight years older than his younger brothers, was a very skilled high school player. After taking off a year after graduation, he chose to stay closer to home and attended City College of San Francisco in 2014. He made the team as a walk-on and received 11 offers to play Division 1 basketball during his time there.
Halfway through his first year, he wrote his future goals down, and one of them was to potentially continue his playing days and education at a historically black college or university (HBCU).
Thompson Jr.'s first choice was Howard University, which his parents attended. Still, he selected Prairie View A&M University, located 47 miles outside of Houston, to finish out his final two years of eligibility from 2016 through 2018.
"I wrote down that I wanted to get 10 division one offers, and at least one of them be an HBCU," Thompson Jr. said. "I have family members that went to Prairie View, and it has a little nostalgic vibe with them (his parents). I didn't know a lot about PV until I got there. It was so welcoming, and it was a great experience for me. It helped me become a man. It was a good experience."
Sharing those experiences with his younger siblings was one of the things that kept them motivated to continue following their dreams of making it into the NBA. Thompson Jr. tried out for Sacramento's NBA G-League affiliate, the Stockton Kings, in 2019, but he was not selected for the roster after the final cuts.
"Growing up, I didn't even know that I was the influence I was," Thompson Jr. said of being an inspiration to his brothers.
Yet, he was very instrumental in the futures of Amen and Ausar as they decided to skip college and play two years at Overtime Elite, where they could strictly focus on basketball.
"He is the blueprint and the role model for me," Amen said of his older brother. "Growing up in Oakland, my family tried to keep me away from certain things, and he was a big part of that because he went through that stuff. Seeing where he was able to get in basketball made me believe that I could do anything."
Source: rocketswire.usatoday.com