Rockets Announce 2019 Training Camp Roster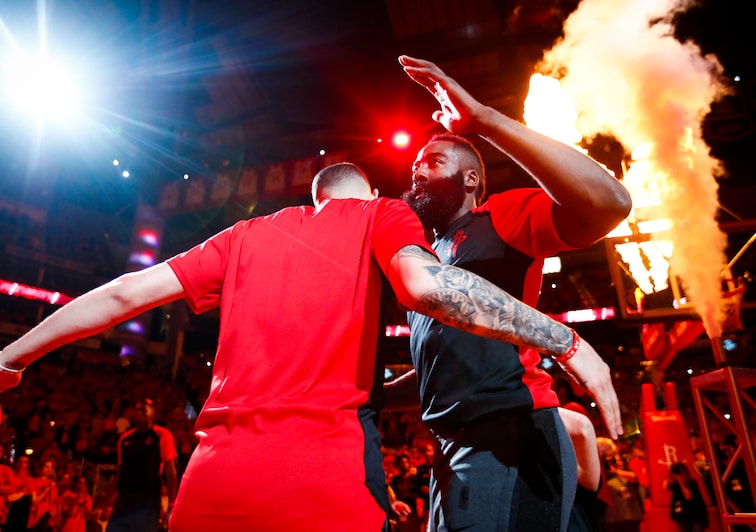 Houston Rockets General Manager Daryl Morey today announced the team's training camp roster for the upcoming 2019-20 season.
The Rockets open the preseason against the Shanghai Sharks of the Chinese Basketball Association at Toyota Center on Monday, Sept. 30. Immediately following that game, the Rockets will travel to Hawaii to play the Los Angeles Clippers and then to Japan for a pair of games vs. Toronto. The first scheduled practice upon returning to Houston is on Monday, Oct. 14.
Below is the Rockets 2019 Training Camp roster:
| | | | | | | | |
| --- | --- | --- | --- | --- | --- | --- | --- |
| No. | Player | Pos. | Ht. | Wt. | DOB | Last Team | Experience |
| 33 | Ryan Anderson | F | 6-10 | 240 | 5/6/88 | California/USA | 11 |
| 30 | Anthony Bennett | F | 6-8 | 245 | 3/14/93 | UNLV/Canada | 4 |
| 7 | Jaron Blossomgame | F | 6-7 | 220 | 9/16/93 | Clemson/USA | 1 |
| 15 | Clint Capela | C | 6-10 | 240 | 5/18/94 | Elan Chalon (France)/Switzerland | 5 |
| 19 | Tyson Chandler | C | 7-1 | 240 | 10/2/82 | Dominguez HS (CA)/UA | 18 |
| 6 | Gary Clark | F | 6-8 | 225 | 11/16/94 | Cincinnati/USA | 1 |
| 3 | Chris Clemons | G | 5-9 | 180 | 7/23/97 | Campbell/USA | R |
| 21 | Michael Frazier | G | 6-4 | 200 | 3/8/94 | Florida/USA | R |
| 4 | Danuel House Jr. | F | 6-7 | 215 | 6/7/93 | Texas A&M/USA | 3 |
| 10 | Eric Gordon | G | 6-4 | 215 | 12/25/88 | Indiana/USA | 11 |
| 14 | Gerald Green | G/F | 6-7 | 205 | 1/26/86 | Gulf Shores Academy (TX)/USA | 12 |
| 13 | James Harden | G | 6-5 | 220 | 8/26/89 | Arizona State/USA | 10 |
| 55 | Isaiah Hartenstein | C | 7-0 | 249 | 5/5/98 | Rio Grande Valley (G League)/USA | 1 |
| 16 | Ben McLemore | G | 6-5 | 195 | 2/11/93 | Kansas/USA | 6 |
| 42 | Nenê | C | 6-11 | 250 | 9/13/82 | Vasco de Gama/Brazil | 17 |
| 2 | Shamorie Ponds | G | 6-1 | 180 | 6/29/98 | St. John's/USA | R |
| 25 | Austin Rivers | G | 6-4 | 200 | 8/1/92 | Duke/USA | 7 |
| 18 | Thabo Sefolosha | F | 6-7 | 220 | 5/2/84 | Angelico Biella (Italy)/Switzerland | 13 |
| 17 | P.J. Tucker | F | 6-6 | 245 | 5/5/85 | Texas/USA | 8 |
| 0 | Russell Westbrook | G | 6-3 | 200 | 11/12/88 | UCLA/USA | 11 |