Richard Reyes aka Pancho Claus
Pancho Claus is celebrating his formances are State Senator Carol 41st Anniversary this year as Alvarado, former Houston Commu- the Creator of Pancho Claus.
Richard founded the Talen- to Bilingue Cultural Center in 1981 and has written several plays including one dealing with the problems in Bilingual Education entitled "From Second Ward to Ben Taub in Thirty Days. This play was written in 1982 and he hopes things have improved for the better since then.
Pancho Claus was created in 1981 as a Children's Play. The project has since evolved into the Pancho Claus Show Band and participates in many Parades and Christmas appearances throughout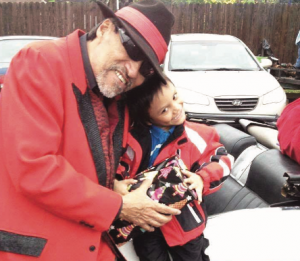 the Houston Area and collects and distributes over 15,000 gifts to Houston Area Children.
Some notable cast members as children in the Pancho Claus Per-
Assistant Police Chief Patricia Cantu, and Grammy & Golden Globe winner Rodney Alejandro.
Richard Reyes is a contributing member of the Houston Community volunteering his services as Vice-President of the Houston Convention and Visitors Bureau, President of the Greater Houston LULAC Council 4967, President, the Multicultural Arts Committee of Houston, Board Member of the Cultural Arts Council of Houston and much more. He is now the director of Pancho Claus Arts located at the Latino Learning Center.
On his Birthday November 5th 2021, Mayor Sylvester Turner Proclaimed November 5th as Richard Reyes Day.