Protesters leave trail of damage throughout US Capitol building
Images and video from the Capitol show a trail of vandalism and destruction after the building was stormed by an angry mob of President Trump supporters on Wednesday.
One photo shows a shattered mirror inside House Speaker Nancy Pelosi's office — the apparent result of vandals who broke into her suite of offices. Beneath the broken mirror is a picture of the Bush family.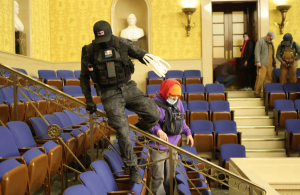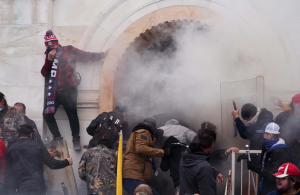 Outside Pelosi's offices, a few demonstrators can be seen proudly wielding a piece of the lawmaker's damaged nameplate, according to a photo posted to social media.
A rioter was seen carrying a podium out of the Capitol Rotunda before police cleared the building.
Countless windows throughout the Capitol building were smashed by a furious mob that forced lawmakers voting to certify the presidential election into lockdown, according to photos from the scene.
One video shows members of the mob smashing a window and pulling out furnishings in the historic legislative chamber, including a lamp and a chair.
Another image shows a window to the Capitol shattered, with a "Don't Tread On Me" flag left hanging from the broken glass.
Reports from inside the building also described debris and papers strewn about.
Some rioters made it into both chambers of Congress after lawmakers fled to safety.
A man dressed in Army fatigues carrying what appears to be giant zip ties was photographed inside the Senate chamber.
Meanwhile, outside the building, rioters were captured smashing media equipment as people screaming.