PRINCE ROYCE TO PERFORM IN TED COUNTDOWN
PRINCE ROYCE TO PERFORM IN
TED COUNTDOWN ON 10.10.2020
The first ever TED Conference that is free
and open to the public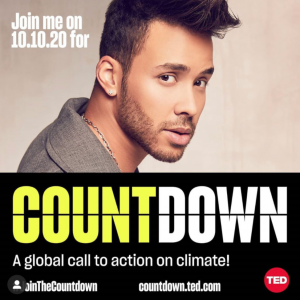 Prince Royce joins his Royal Highness the Duke of Cambridge, Mark Ruffalo, Don Cheadle, Al Gore, Jaden Smith, Priyanka Chopra, as well as scientists, activists, artists, schools and leaders from business and government to accelerate and amplify solutions.
CLICK HERE TO TUNE IN ON 10.10 FOR
THE LIVE EVENT
TED Countdown, a global initiative to champion and accelerate solutions to the climate crisis, will launch on October 10, 2020 with a free five-hour live virtual event featuring leading thinkers and doers. This is the moment to act, and they will outline what a healthy, abundant, zero-emission future can look like—turning ideas into action. The event will combine TED's signature blend of actionable and research-backed ideas, cutting-edge science, and moments of wonder and inspiration.
The Countdown launch will be streamed live on TED's YouTube channel. This global event will be the first ever TED conference that is free and open to the public. Segments from the event, including the biggest talks and performances, will be made available immediately across all digital platforms. The program includes 50+ pieces of content – talks, performances, animations and more.
With so many heroes who have already committed to addressing climate change, Countdown is about radical collaboration—convening all stakeholders to build on the critical work already underway and bringing existing, powerful solutions to an even broader audience. Powered by TED and Future Stewards, Countdown aims to answer five fundamental,  interconnected questions that inform a blueprint for a
Citizens are the critical component of this initiative and anyone can #JoinTheCountdown by: