The 33rd edition of "Premio Lo Nuestro" kicked off with exciting news. Guinness World Records awarded the show for being the longest-running Latin music award in the world. Established by Univision in 1989, "Premio Lo Nuestro" recognizes the most talented Latin music performers.
This year, and following all security measures and in full compliance with local authorities and public health recommendations, the ultimate platform to showcase the best of Latin music and culture included special tributes and moments to continue uniting and highlighting our community through music, culture, and hope.
Taking place at the AmericanAirlines Arena in Miami, Florida, the show started with "Noche de Estrellas," a pre-show that includes the famous magenta carpet. Singers Alejandra Guzmán, Yuri, and Lila Downs opened the show by honoring late singer-songwriter Armando Manzanero
Followed by  Maluma,  who performed for the first time his songs "Agua de Jamaica," and "La Burbuja" from his new visual album, #7DJ (7 Días En Jamaica).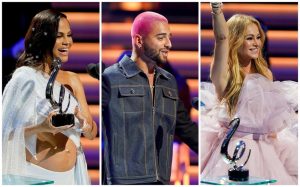 Hosts Chiquinquirá Delgado, Jose Ron, and Yuri welcomed the audience and introduced Gabriel Soto and Irina Baeva, who revealed the night's first award winner.
The star-studded lineup of performers continued with Jessi Uribe and Joss Favela singing "El Alumno." The show also paid tribute to late music star and creator of La Fania,  Johnny Pacheco. The "Caballero de la Salsa" Gilberto Santa Rosa united his voice to fellow salsa singer Jose Alberto "El Canario," alongside renowned music producer Sergio George and flutist Néstor Torres. The artists performed "Quitate Tu," "Mi Gente," "Los Compadres," and "Guaguanco Pa'l Que Sabe."
Puerto Rican urban music stars Zion & Lennox brought the heat to the "Premio lo Nuestro," singing their newest hit, "Gota Gota," featuring Dominican Dembow recording artist and composer El Alfa.
 Chesca and Grupo Firme blessed the audience with "El Cambio," a Spanish language interpretation of "The Change" initially performed by superstar JoJo. Chesca's arrangement was chosen to be used in a Joe Biden and Kamala Harris 2020 campaign video.
Latin American boy band CNCO gave us "Déjà Vu." Joel Pimentel, Richard Camacho, Erick Brian Colón, Christopher Vélez, and Zabdiel De Jesús, performed "Dejaría Todo", a cover of Puerto Rican singer, Chayanne; "Solo por un beso," originally released by Aventura, followed by "Entra en Mi Vida," Sin Bandera's first single.
Argentine-Venezuelan singer and songwriter Ricardo Montaner surprised the audience by joining CNCO to sing "Tan Enamorados."
The show continued awarding Maluma; later,  Natti Natasha confirmed pregnancy rumors while singing "Antes que salga el sol," featuring Prince Royce.
Gloria Trevi received the Premio a la Trayectoria to celebrate the 30th anniversary of her album, Tu Angel de la Guarda, and her iconic and hit song "Pelo Suelto." The Mexican singer performed "Todos me Miran," "Grande," and "Gloria" alongside Ivy Queen.
El Alfa took the stage one more time to sing with Camilo their new song, "BEBÉ."
Luis Fonsi and Rauw Alejandro performed "Vacío," a new spin on the classic "A Puro Dolor" by Son By Four. After announcing Paulina Rubio and Raymix as the winners of "Mejor Canción de Cumbia del Año," for their hit "Tú Y Yo," Maluma and  Carlos Rivera  took the stage of "Premio lo Nuestro" to sing the heartfelt song "100 Años."
Dominican singer Natti Natasha and Romeo Santos won the best "Canción Tropical del Año," for their remix of "La Mejor Versión de Mí." Later Wisin made us dance, singing his best tracks alongside Jhay Cortez, Rauw Alejandro, and Zion & Lennox. Colombian singer Carlos Vives also joined the Puerto Rican reggaeton rapper, singer, and record producer, to sing "Nota de Amor." After the performance, Wisin received the "Premio a la Excelencia" for his achievements in music. The star thanked Daddy Yankee,  Luny Tunes and dedicated the award to Puerto Rico and his fans.
Historic moments continued at "Premio lo Nuestro." Daddy Yankee and  Marc Anthony  performed traditional salsa track "De Vuelta Pa' La Vuelta" with a touch of reggaetón.
Paulina Rubio introduced Mexican musical group Los Ángeles Azules,  Chiquis Rivera, Kinky, and Gloria Trevi. The stars played their traditional cumbia sonidera.
Vice-President Kamala Harris sent a message to the Hispanic and Latinx community and congratulated all the winners. Justin Quiles later performed "Jeans" and "PAM," and La India and Victor Manuelle joined their voices to sing their new salsa single "Víctimas las dos."
The night continued with Selena Gomez and Rauw Alejandro releasing a new video for "Baila Conmigo."
Anuel AA and Ozuna were among the last performers of the night. The 33rd edition of "Premio Lo Nuestro" ended awarding Camilo as "Artista del año-pop."
Source: us.hola.com