PORT HOUSTON LAUNCHES BUSINESS EQUITY DIVISION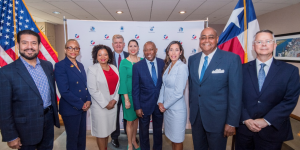 Port Houston has announced its new MWBE Business Equity Program and Initiative, receiving praise and support from Houston Mayor Sylvester Turner and Harris County Commissioners Rodney Ellis, Adrian Garcia, and other community and business leaders at Thursday's official announcement that the newly-formed Houston's Business Equity Division will lead this effort.
Port Houston has created this new division to create greater equity for minority and women-owned business enterprises participating in its procurement and contracting processes. "I am proud that the new division will elevate the profile of Diversity, Equity, and Inclusion (DEI) at Port Houston," said Executive Director Roger Guenther.
"I assure you that it will have the organizational support and leadership needed to produce meaningful and sustainable long-term change."
Mayor Turner and other elected officials described the new program as "historic." Each also emphasized the potential of the program for minority and women-owned and small businesses, to sustain and grow their businesses through access, education, and opportunities – economic impacts helping families, and the community as well.
"The new Business Equity division will report directly to me," said Executive Director Guenther. "It will include Port Houston's successful Small Business Program and will champion the new MWBE initiatives and DEI efforts."
Guenther added that as Port Houston addresses DEI, it considers this new business equity program as "forward-looking," and a "public declaration," capturing the initiative and vision for DEI at Port Houston.
This new initiative also includes the Port Commission's June adoption of a DEI Position Statement, reorganization in March of the Port Commission's Procurement and Small Business Development Task Force as the Business Equity Committee, adoption of a new MWBE Development Policy in April, with an aggressive 30% aspirational goal for participation, and the creation of a strategic marketing plan for outreach about the new MWBE program to the community.
Source: porthouston.com