Patriots to honor Tom Brady at 2023 home opener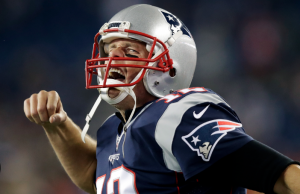 New England Patriots owner Robert Kraft announced Thursday morning that Tom Brady will be honored at the team's 2023 home opener, which will come against the Philadelphia Eagles on Sunday, Sept. 10.
"I invited him back to be with us at the opening game and let the fans in New England thank him … it will be the beginning of many celebrations to honor Tom Brady," Kraft said on NFL Network.
Kickoff for the game is set for 4:25 p.m. ET.
Kraft added of Brady, who announced his retirement after 23 seasons: "He's very excited to come back and see our fans. It will be a great, great celebration."
Brady spent his first 20 seasons in New England (2000-2019), winning six Super Bowls, before concluding his career with the Tampa Bay Buccaneers (2020-2022) and winning a seventh title. He is the only player to win more than five Super Bowls in his career, and he has been named Super Bowl MVP five times.
Brady said he was retiring "for good" from football on Feb. 1, announcing his decision on social media, and saying he "wouldn't change a thing" about his career. He also announced he was retiring on Feb. 1, 2022, before changing his mind 40 days later and returning to play this past season with the Buccaneers.
Brady ended his career as the NFL's leader in career passing yards (89,214) and touchdown passes (649). The three-time league MVP passed for 4,694 yards — third most in the NFL — and 25 touchdowns this past season. He also holds NFL records for regular-season wins (251), Super Bowl appearances (10), playoff games (48) and wins (35), as well as playoff yards (13,400) and TDs (88).
In May 2022, Brady agreed to join Fox Sports as its lead analyst when his playing career was over, but in February he said he won't begin his work as a sports broadcaster until the fall of 2024.