Passenger of Business Jet Is Killed in 'Severe Turbulence'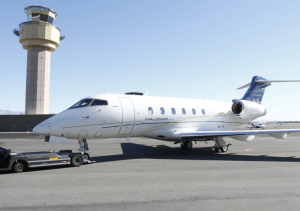 Officials said that the passenger, a Maryland resident, sustained fatal injuries during the flight, which made an emergency landing in Windsor Locks, Conn.
A passenger of a business jet was killed when the plane, which was traveling from Keene, N.H., to Leesburg, Va., encountered "severe turbulence" on Friday, officials said.
The aircraft, a Bombardier Challenger 300, was carrying two crew members and three passengers and was forced to land in Windsor Locks, a town about 14 miles north of Hartford, Conn., the National Transportation Safety Board said in a statement.
The passenger who was killed was later identified as Dana Hyde, 55, a resident of Cabin John, Md. She had been taken by ambulance to Saint Francis Hospital and Medical Center in Hartford, Conn., where she was pronounced dead, the Connecticut State Police said Monday.
The N.T.S.B. said that investigators were interviewing the crew, operator and passengers and had removed the cockpit voice recorder and flight data recorders from the plane, which had been secured at the Bradley International Airport in Windsor Locks.
Sarah Sulick, a spokeswoman for the transportation agency, said that it could not release further information about the nature of the turbulence, the passenger who was killed or any related injuries, as the investigation remained ongoing.
The death follows a similar incident last week in which seven passengers of a Lufthansa flight traveling from Texas to Frankfurt were hospitalized with injuries after their plane encountered extreme turbulence. In December, 36 people were injured during turbulence on a Hawaiian Airlines flight from Phoenix to Honolulu.
Though accidents on aircraft carrying passengers or cargo are uncommon, turbulence accounted for more than a third of such aircraft accidents from 2009 to 2018, according to a report from the N.T.S.B. Most of those accidents resulted in one or more serious injuries but no aircraft damage, the agency said in the report.
There have been 146 passengers and crew seriously injured by turbulence from 2009 to 2021, according to data from the Federal Aviation Administration.