Norfolk Southern train derailment in Pennsylvania near Ohio state line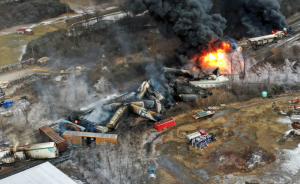 We're following breaking overnight news of a Norfolk Southern train derailment in western Pennsylvania.
It happened in New Castle, which is approximately 20 miles from East Palestine, Ohio, where a toxic train derailment occurred more than three months ago on Feb. 3.
Norfolk Southern issued the following statement to 3News:
"At 11:57 p.m. Wednesday evening, nine cars derailed outside of New Castle, PA. There were no hazardous materials involved, and no injuries have been reported. Our crews responded immediately and are actively working at the site."
The New Castle Police Department also addressed the derailment with the following statement on their Facebook page:
The Lawrence County Department of Public Safety provided an update early Thursday morning to say the majority of first responders have cleared the scene. Here's their full statement:
Train Derailment Update: Norfolk Southern crews are on scene working out a plan to remove the cars. The majority of the First Responders have cleared the scene.