No Mor Chikin: Greenbriar Mall bids farewell to historic Chick-fil-A location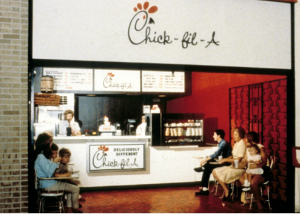 Chick-fil-A's first-ever restaurant is closing after more than a half-century in business.
Opened in 1967, the Greenbriar Mall food court location in Atlanta is set to close on Saturday, according to local reports. The location's Facebook page says it's permanently closed. It's unclear why the restaurant is closing and Chick-fil-A didn't immediately return CNN's request for comment.
Like many malls, the Greenbriar has been struggling to attract shoppers and keep tenants. Its largest store, Macy's, closed in 2021. The mall is currently filled with smaller stores and no major anchor tenants.
On its website, Chick-fil-A touts the "groundbreaking" location as one of the first restaurants to open inside a mall. Greenbriar was one of the first indoor malls in the Southeast.
The location is described as a "pioneer in the modern-day food court" and had a "monumental impact" on the company because it helped grow the chain into its current 2,600-location operation.
When the Greenbriar Mall location first opened, the menu included a 59-cent chicken sandwich and a salad with boneless chicken breast; plus fries, coleslaw, lemon pie and lemonade — a far cry from the more than 50 menu items Chick-fil-A now sells. Employees wore candy-striped aprons with ascots and "soda jerk" hats.
In 1997, a plaque was installed at the mall restaurant to celebrate its 40th anniversary and celebrate how the company pioneered in-mall dining. "From this location, Chick-fil-A has grown to become one of the largest privately owned restaurant chains in the nation," the plaque reads.
Company founder S. Truett Cathy started the business with his brother in 1946 with the opening of a diner in Atlanta called the The Dwarf Grill. Its success led him to evolve the restaurant into the Chick-fil-A chain, and some consider that to be the first Chick-fil-A location.
CNN affiliate WXIA notes that Chick-fil-A restaurants were only located in mall food courts for 20 years before opening its first free-standing restaurant in the Atlanta suburb of North Druid Hills in 1986.