NFL Draft 2023: How to watch, Patriots picks, start time, TV schedule, streaming, and more for Day 1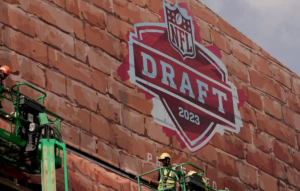 The biggest team-building exercise on the calendar is set for this week, as the 88th annual NFL Draft will kick off Thursday night in Kansas City.
The Chicago Bears traded the top pick to the Carolina Panthers, who are set to chose No. 1 for the first time since they selected Cam Newton in 2011.
New England has 11 picks, including the 14th overall. If the Patriots stick at No. 14, it'll be the fourth-highest selection they've had since coach Bill Belichick took over in 2000. They took Richard Seymour sixth overall in 2001, Ty Warren 13th overall in 2003, and Jerod Mayo 10th overall in 2008.
Here are the details:
The basics
Location: Kansas City's Union Station, near the city's World War I Museum and Memorial.
Thursday, April 27: Round 1, 8 p.m.
Friday, April 28: Rounds 2 and 3, 7 p.m.
Saturday, April 29: Rounds 4 through 7, noon
Television: NFL Network, ESPN, ABC, ESPN Deportes
Radio: Coverage will be provided by SiriusXM NFL Radio (Rounds 1-7), Westwood One Sports (Round 1) and ESPN Radio (Rounds 1-7).
Format and time limits
The draft will consist of seven rounds with a total of 259 selections. In addition, 37 compensatory choices were awarded.
The amount of time a team has to make their choice changes as the draft progresses.
• Round 1: 10 minutes per selection
• Round 2: 7 minutes per selection
• Rounds 3-6: 5 minutes per selection
• Round 7: 4 minutes per selection
First-round order
There are 31 first-round picks this season — Miami was stripped of its first-round choice because of tampering violations involving Tom Brady and Sean Payton.
1. Carolina (From Chicago)
2. Houston
3. Arizona
4. Indianapolis
5. Seattle (From Denver)
6. Detroit (From LA Rams)
7. Las Vegas
8. Atlanta
9. Chicago (From Carolina)
10. Philadelphia (From New Orleans)
11. Tennessee
12. Houston (From Cleveland)
13. Green Bay (From NY Jets)
14. New England
15. NY Jets (From Green Bay)
16. Washington
17. Pittsburgh
18. Detroit
19. Tampa Bay
20. Seattle
21. LA Chargers
22. Baltimore
23. Minnesota
24. Jacksonville
25. NY Giants
26. Dallas
27. Buffalo
28. Cincinnati