Next Phase of Northwest Transit Center Transformation Begins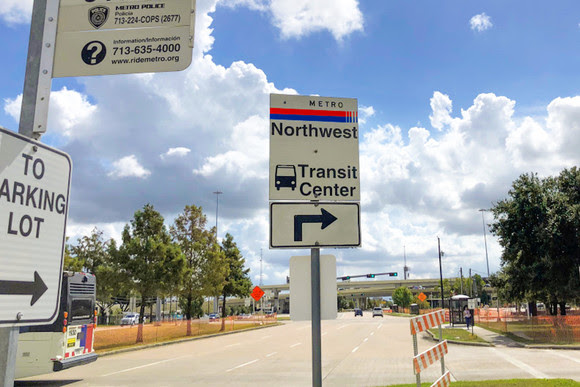 Big changes are underway as METRO's Northwest Transit Center enters its next phase of a complete renovation. Beginning Tuesday, Sept. 3, 2019, the platform serving the transit center's bus routes will close and stops will be moved.
During construction, stops for all Northwest Transit Center routes will be relocated to several areas including a new temporary platform and along Old Katy Rd. Please see route location map below. f
Since last week, METRO's Street Team has been on-site at the Northwest Transit Center to assist customers, providing maps and answering customer questions. The team will continue outreach efforts on:
Tuesday, Sept. 3, from 5 a.m. – 7 p.m.
Wednesday, Sept. 4, from 5 a.m. – 7 p.m.
FREE shuttles will continue to transport riders to and from shelter stops along Old Katy Rd. during construction. Due to limitations on space, however, shuttles will not enter the temporary platform area. Patrons needing to access this area will be served by Shelter Stop #7 (see map). Shuttles are available weekdays only from 6 a.m. – 9 a.m. and 3 p.m. – 7 p.m.
Pedestrian paths have also been designated to better accommodate customers traveling to and from temporary locations. Beginning Tuesday, Sept. 3, a police officer will be on duty weekdays from 6 a.m. – 6 p.m. to assist pedestrians crossing Old Katy Rd.
The Northwest Transit Center is a vital connection hub for the region's transit system. The grant-funded project at the 30-year-old facility includes improvements and amenities such as:
Increasing the number of bus bays from 12 to 20 for more capacity.
Universal accessibility improvements including new Bluetooth® bus bay beacons, braille signage, and level crosswalks.
Improved HOV lane connectivity to I-10 and US-290, including accommodations for two-way HOV traffic.
A new METRO RideStore where customers can purchase fare products or speak with a customer service agent.
Connectivity to a bike path and bike storage facilities.
Upgraded lighting and surveillance to enhance safety and security.
Fully-accessible public restrooms.
More parking with a total of 256 spaces for Park & Riders.
For the latest construction news and maps please visit our website