New Metro HOV/Hot Ramp to Open near NASA Road 1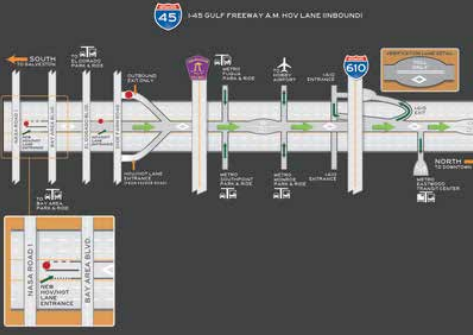 TXDOT's opening of a new HOV/HOT Express Lane entrance ramp will create faster, more convenient and reliable service for Gulf Freeway commuters starting next week.
Beginning Monday, April 22, 2019, a new northbound ramp entrance will open to traffic just north of NASA Road 1 at Medical Center Boulevard.
The new ramp will be open Monday through Friday. Inbound traffic may enter between the hours of 5 a.m. and 11 a.m. Outbound traffic may exit this location from 1 p.m until 8 p.m.
Please visit our website for more information on toll rates and hours. Subscribe to METRO Service Alerts for real-time information sent directly to your phone.