National Travel and Tourism Week 2020 Celebrates "Spirit of Travel"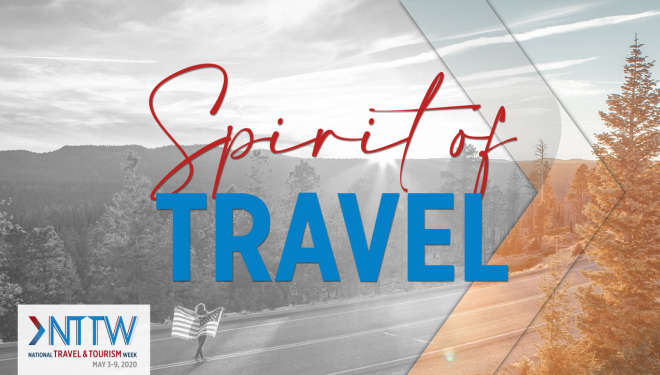 National Travel and Tourism Week (NTTW), the annual celebration of the contributions and accomplishments of the travel industry, will spotlight resilience and hope in the face of the coronavirus pandemic with this year's theme: Celebrating the Spirit of Travel.

Celebrated annually the first full week in May, NTTW was created by Congress in 1983 to underscore the economic power of travel in the U.S. The 37th NTTW (May 3-9) arrives at an opportune moment to unite the industry, celebrate its indomitable spirit and elevate the role it will play in America's economic recovery.

Visit Corpus Christi is asking the community to join in going Turquoise for Tourism during NTTW, May 3-9, 2020. Turquoise for Tourism acknowledge s all the travel and tourism employees who have been financially impacted by the COVID-19 pandemic. The Harbor Bridge and digital bulletins across the city will be lit up with the color turquoise to celebrate the Corpus Christi tourism industry. Options for going Turquoise for Tourism can be found here. If you would like to go Turquoise for Tourism and have special dimensions, please contact Visit Corpus Christi for a custom size creation.

Turquoise for Tourism is also an initiative to raise awareness for the Visit CC Cares Program Emergency Relief Fund to help employees in the hospitality and tourism industry who have experienced a financial hardship and work furlough. Visit Corpus Christi has partnered with local brand, Made in Corpus Christi, to create custom line of merchandise for the program – including special turquoise stickers and buttons to be displayed and worn throughout NTTW. Turquoise for Tourism stickers and buttons can be purchased here.
"There's no doubt this has been an incredibly challenging time for Corpus Christi but we see National Travel and Tourism Week as an opportunity to remind our visitors and our residents of the incredible spirit and resiliency of the travel industry and our workforce. It's only a matter of time before we all get moving again, and Corpus Christi will be more ready than ever to welcome travelers with open arms." said Brett Oetting, Visit Corpus Christi President & CEO.

Please click here to learn more about Visit Corpus Christi's NTTW plans and visit ustravel.org/NTTW to learn more about the week.