Nacho-Style Twice-Baked Sweet Potatoes
Recipe Courtesy of Clean Eating Mag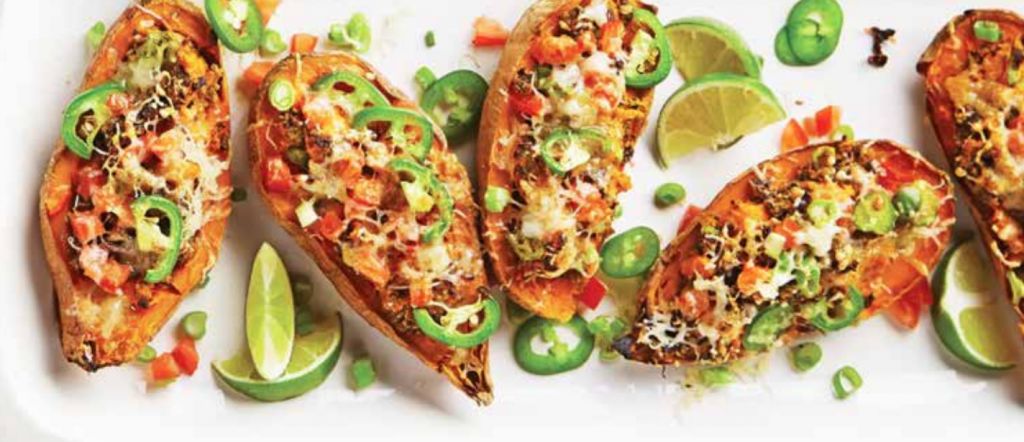 There's something so good about a cheesy stuffed potato. Here, we've used sweet potatoes for a nutrient boost. Serve with lime wedges for squeezing over top.
Ingredients
4 sweet potatoes, cut in half lengthwise
2 tsp olive oil
½ tsp sea salt and ground black pepper, divided
⅓ cup full-fat sour cream
1 lime, juiced leftover black bean patties (from Black Bean Burgers with Smoky Garlic Mayo), broken into bite-size pieces
1½ cups shredded Monterey Jack cheese, divided
2 green onions, sliced
1 large plum tomato, seeded and diced pickled or fresh jalapeño chile pepper, thinly sliced, to taste
Preparation
1. Preheat oven to 375°F. Line a baking sheet with parchment. Brush cut sides of potatoes with oil; sprinkle with ¼ tsp each salt and pepper. Arrange potatoes, cut sides down, on sheet. Bake until tender, 45 to 55 minutes.
2. Meanwhile, in a medium bowl, combine sour cream, lime juice and remaining ¼ tsp each salt and pepper. Cover and refrigerate until serving.
3. Set potatoes aside until cool enough to handle. Using a spoon, scoop potato flesh into a medium bowl, leaving a ¼-inch-thick layer inside skins. Return shells to pan. Add bean patty pieces, 1 cup cheese and onions to bowl; stir to combine.
4. Spoon bean mixture back into potato shells. Bake until filling is hot in center, about 10 minutes. Sprinkle with remaining ½ cup cheese, tomato and jalapeño. Bake until cheese is melted, 2 minutes more. Serve with sour cream mixture.
Nutrition Information
Serving Size: 2 stuffed potato halves
Calories: 393
Carbohydrate Content: 36 g
Cholesterol Content: 63 mg
Fat Content: 20 g
Fiber Content: 9 g
Protein Content: 18 g
Saturated Fat Content: 10 g
Sodium Content: 696 mg
Sugar Content: 9 g
Monounsaturated Fat Content: 6 g
Polyunsaturated Fat Content: 2 g