Multimillion dollar catalytic converter theft ring operated out of Philadelphia towing business, prosecutors say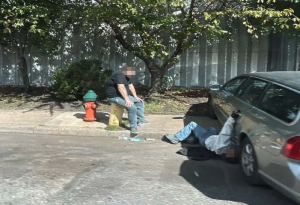 A Philadelphia towing company has been accused of running an organized criminal enterprise which purchased millions of dollars' worth of stolen catalytic converters from thieves to sell at a profit, according to prosecutors.
Prosecutors said TDI Towing purchased $8.2 million dollars' worth of stolen catalytic converters from "cutters," a name given to the thieves who steal them, and later resold them with an 8% markup.
The converters, which reduce pollution and toxic gas from a vehicle's emissions, contain valuable precious metals such as palladium, platinum and rhodium.
Towing company by day, criminal enterprise by night, prosecutors say
In addition to the company, 11 people have been charged in connection with what prosecutors said was the stealing, buying and reselling of more than 25,000 stolen catalytic converters, in addition to other charges, according to Bucks County District Attorney Matthew Weintraub.
A nearly yearlong investigation found TDI Towing had been in the business of buying catalytic converters for at least three years, and during that time they bought an average of 175 catalytic converters a week, or 27,300 during those three years, the Buck's County District Attorney's Office said in a statement. TDI employees paid an average of $300 per catalytic converter, the DA's office said.
"While TDI Towing advertised itself as operating during daytime hours, people would arrive all throughout the night to sell catalytic converters," according to the DA's statement. "The tow yard was so popular with thieves that in one case, a catalytic converter was sawed off from a stolen vehicle right outside the yard."
The investigation revealed that TDI Towing was controlled and operated by Michael Williams, 52, of Philadelphia, the DA said, adding that most of those involved in the alleged organized crime enterprise had a family connection to Williams.
Prosecutors characterized Williams as the "king pin" of the operation, paying the so-called "cutters" for stolen catalytic converters. According to prosecutors, at the height of the criminal operation, TDI Towing was spending approximately $10,000 each night on stolen catalytic converters.
Williams is facing several charges related to buying, possessing, and selling stolen catalytic converters, in addition to organized crime and corruption charges, according to court documents.
Williams is accused of purchasing stolen catalytic converters from "cutters" from 2020 when the Covid-19 pandemic caused supply-chain issues, resulting in a market price increase for the precious materials inside, ranging from $1,000 to $7,000 per ounce, Weintraub said.
Williams' defense attorney, Bruce Castor Jr., told CNN his client believes he's been treated fairly by Bucks County authorities and will await the outcome of the criminal proceedings. Castor declined to comment further.
According to the DA's office, the company, Williams, six TDI employees and four "cutters" were charged. Except for one person who is still at large, those charged were arraigned on June 22 and 23. The DA's office said no one has been required to enter a plea ahead of preliminary hearings which are scheduled to begin July 5.
The arrests and charges were the result of thousands of hours of video surveillance, six controlled sales and the collaboration of 27 law enforcement agencies, according to the DA's office. The initial investigation began in Bucks County after law enforcement began looking into the string of stolen catalytic converters there. The investigation led them to TDI Towing in Philadelphia and to other Pennsylvania counties, the DA's office told CNN.
"Criminals don't care about borders but when we work together, we're not restricted by borders either," Weintraub said during a news conference.
Surge in catalytic converter theft
Catalytic converter theft has skyrocketed around the country in recent years, according to a report from the National Insurance Crime Bureau. In May, the report found there were more than 64,000 catalytic converter thefts in 2022, based on insurance claims data.
It can cost between $1,000 and $3,500 or more to replace a stolen catalytic converter, depending on the type of vehicle, the bureau said.
Source: edition.cnn.com