More than 300 flights canceled at Newark Airport due to weather conditions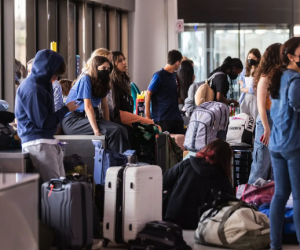 More than 300 flights have been canceled at Newark Liberty International Airport on Sunday due to harsh weather conditions, the airport said in a social media post.
"Weather conditions have caused EWR Airport flight disruptions," the Twitter post read. "Please check with your airline to determine the status of your flight."
The airport canceled 311 flights and another 193 were delayed, according to reports from flightaware.com.
The cancellations account for about 24 percent of total flights scheduled on Sunday.
Fierce thunderstorms with strong winds swept across New Jersey on Saturday night, resulting in thousands of power outages.
About 15,000 homes around the state were left without power Saturday night. More than 11,000 still had no power as of 9 a.m. on Sunday, according to Jersey Central Power & Light.
Conditions could worsen Newark Airport on Sunday, with Accuweather.com predicting heavy thunderstorms, significant flooding, damaging wind gusts and the possibility of an isolated tornado through this evening.
Source: www.nj.com