MALUMA WINS THE VMA FOR "BEST LATIN"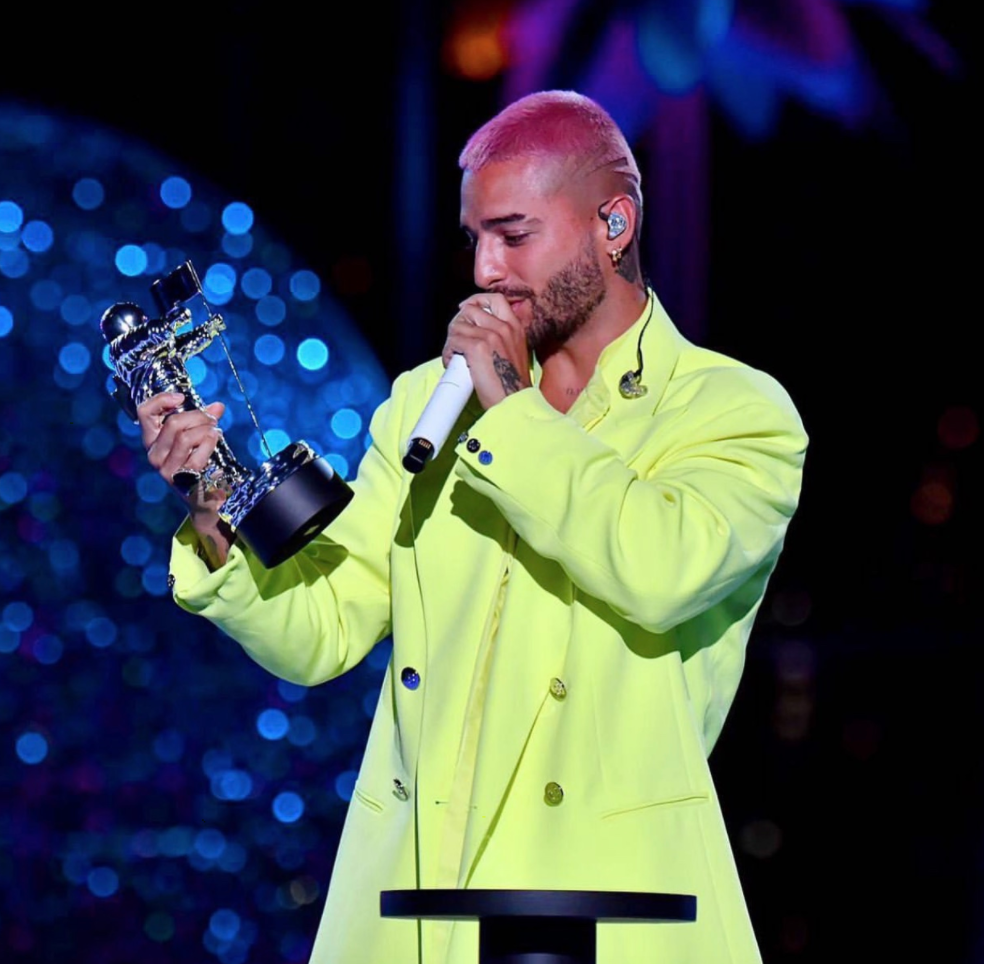 MALUMA WINS THE VMA FOR "BEST LATIN" & PERFORMS HIS GLOBAL HIT "HAWAI" FOR THE FIRST TIME AT A SPECIAL DRIVE-IN STAGE IN NYC FOR THE 2020 MTV VIDEO MUSIC AWARDS
The Young Fashion Icon Designed His Performance Look Along with Olivier Rousteing of BALMAIN – Maluma's Collaborative Design is Set to be Part of BALMAIN's SS2021 Collection & Runway Show in Paris on October 2nd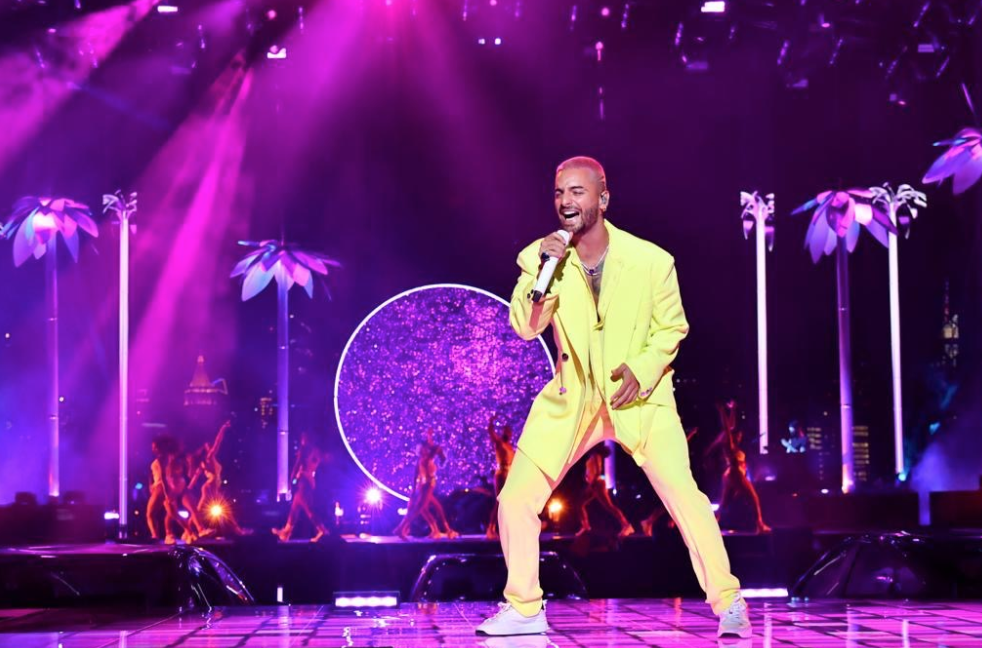 NEW YORK, New York (August 31, 2020). Global latin music idol MALUMA, took over the 2020 MTV Video Music Awards last night with an amazing performance and his first moon-person win in the "Best Latin" category for his single and video, "Que Pena" ft. J Balvin, which was voted by fans as the best in the Latin category this year.
Along with his win, Maluma executed an electric, colorful, 90's and Miami Vice inspired performance for his global hit, "HAWÁI," which is currently #2 on Spotify's global chart and featured in his new fifth studio album, Papi Juancho. This is the first live televised performance of "HÁWAI" and Maluma's first official stage performance since the pandemic broke. Maluma sang at an undisclosed drive-in location, where fans enjoyed the show in a safe environment from their cars overlooking the iconic New York City skyline. The performance featured Maluma on a motorcycle with an illuminated stage filled with colorful neon lights, palm trees and dancers in custom "Papi Juancho" bathing suits showcasing a Miami-style set. To watch the performance click HERE.
"Tonight is a moment that I will never forget. I am grateful to my fans for voting and having 'Que Pena' win a legendary moon person for my hometown of Medellin. As artists, we have worked hard to represent Latinos globally and tonight this win represents that united we are all stronger together for our culture," shares Maluma. "Being on stage for the first time since the pandemic hit was so amazing. I felt like I was home again and I am grateful to MTV for having me back to perform since my first time at the VMAs in 2018. With my performance, I wanted to transpire uplifting energy with a vibrant set for my fans watching at home."
In addition, Maluma's anise-green double-breasted silk suit and matching silk collarless shirt set with Balmain sneakers is his first couture design by him in collaboration with Olivier Rousteing, the creative director of BALMAIN. Olivier was inspired by Maluma when he participated in the brand's Men's Resort 2021 rollout in June 2020 and felt a design collaboration on a look would be perfect timing with the release of "HAWÁI" and Papi Juancho. The full custom design look will be part of Balmain's Spring-Summer 2021 collection and it will debut again at Balmain's runway show during Paris Fashion Week on October 2nd, 2020.
"Designing my performance look with Olivier was also a fashion accomplishment to what's to come. Olivier knows the value of bringing a story and brand to life. He visually understands the long term goals of who I am. I was excited he had the vision of who 'Papi Juancho' is and seamlessly executed this throwback 90's feel with me. For us, it was important to bring the bright colors, good times and nostalgic feel during these unprecedented times," the young idol expressed.
This week, Maluma made history with "HAWÁI" as #2 on Spotify's Global Top 50 chart, making Maluma the Latin artist that has earned the highest position with a solo song on the chart this year. The video for "HAWÁI" was #2 on YouTube's chart of most viewed videos in the past 24 hours worldwide and across all genres. It has received more than 107 million views on his official YouTube channel in just a month.
Maluma is also currently #1 on Latin radio in the United States and Puerto Rico with "Porfa" Remix, earning his seventeenth #1 on Billboard's Latin Airplay chart in just five years. "HAWÁI" has reached #1 on radio in Colombia, Argentina, Guatemala, Ecuador, Chile, Panama, Paraguay, Bolivia, Costa Rica, El Salvador and Honduras; and is quickly rising through the charts in Spain and the United States.

"HAWÁI" is part of the recording artist's latest musical production. On August 21st Maluma surprised his fans with the release of his fifth album, entitled PAPI JUANCHO. The news sparked euphoria among his fans and spread like wildfire among his followers which surpass 100 million on his social media (Instagram, YouTube, Facebook and Twitter). PAPI JUANCHO is available on all digital platforms – to stream and/or download click HERE.
PAPI JUANCHO is composed of 22 songs created while quarantined in Medellin, Colombia and Miami, Florida. It's the result of many years of hard work and the evolution of Maluma's alter ego; "Papi Juancho" is the "Dirty Boy" (from his second album Pretty Boy Dirty Boy) all grown up.
Produced by the Rude Boyz (Kevin ADG y Chan "El Genio"), who have worked with Maluma since his first album, PAPI JUANCHO's 22 tracks were written by Maluma alongside Edgar Barrera, Kevin ADG, Chan "El Genio", Miky La Sensa, Vicente Barco, Juan Camilo Vargas, among others. It includes unexpected collabs with hard core old school and new school Reggaetón artists: Darell, Jory Boy, Justin Quiles, Lenny Tavarez, Myke Towers, Ñejo & Dalmata, Ñengo Flow, Randy, Yandel, Yomo y Zion.
Along with the album, Maluma also released the video of "Parce" ft. Lenny Tavarez and Justin Quiles.