Lone Star College recognized as top institution for minorities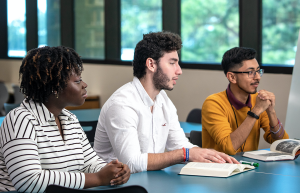 Diverse Issues in Higher Education magazine has recognized Lone Star College as a top degree producer for minority students. LSC was ranked fourth in the nation, offering associate degrees to minorities.
"Lone Star College is committed to creating and offering world-class educational opportunities to all students," said Stephen C. Head, Ph.D., LSC Chancellor. "We are pleased with this recognition and will continue to provide quality academic transfer and workforce programs to keep our community strong."
LSC was also ranked fourth for the number of Hispanic students earning an associate degree, 10th for the number of Asian students earning a degree, and 13th nationwide for the number of African American students obtaining a degree.
Diverse Issues In Higher Education uses analysis from U.S. Department of Education reports submitted by institutions. Rankings are based on the review of 2020-21 preliminary data.
"These rankings prove Lone Star College is meeting the needs of our diverse community, helping all students to continue their education which can lead to a better life," said Michael Stoma, LSCS Board of Trustees Chair.
Among the notable findings in the report:
The number of associate degrees conferred to minority students in 2021 increased by 18,825 degrees compared to 2020-2021.
Fifty-five percent of the associate degrees conferred to minority students were in arts & science.
Liberal Arts & Sciences, General Studies and Humanities degrees were the top disciplines for associate degrees awarded to minority students.
LSC is continually recognized for its diversity efforts. In June 2022, the college was one of four organizations to receive the Outstanding Supplier Diversity Recognition Award from the Houston Business Journal.
Lone Star College has more than 200 programs and various resources, such as scholarships, student clubs and technology services, to help set all students up for success. LSC's spring 2023 semester starts Jan. 17. Registration is now open at LoneStar.edu/Registration.
Lone Star College enrolls over 80,000 students each semester providing high-quality, low-cost academic transfer and career training education. LSC is training tomorrow's workforce today and redefining the community college experience to support student success. Stephen C. Head, Ph.D., serves as chancellor of LSC, the largest institution of higher education in the Houston area and has been named a 2022 Great Colleges to Work For®institution by the Chronicle of Higher Education, ranked 35th in Texas in the Forbes 'America's Best Employers By State' list and recognized by Fortune Magazine and Great Place To Work® as one of this year's Best Workplaces in Texas™. LSC consists of eight colleges, seven centers, eight Workforce Centers of Excellence and Lone Star Corporate College. To learn more, visit LoneStar.edu.