"Crime tourists" wanted for burglaries in Wilmington area; Asian businesses may be target: police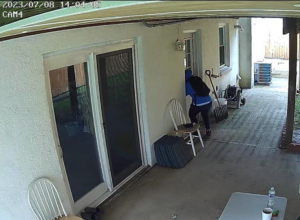 Police are searching for a group of men they call "crime tourists." Officers said there are a group of men from South America who are ransacking homes in neighborhoods near Wilmington.
Security video shows the frightening moments a man wearing a hooded sweatshirt and gloves peers through a back glass door before trying to open it on Wild Cherry Lane near Wilmington last week. He eventually breaks a window to get inside.
"It's pretty frustrating," said Joshua Huang, who had his home burglarized.
Huang said the burglar took off with belongings and cash.
"There was a door open and stuff was moved. The neighbors called the police already, so when we got back the police were here," Huang said.
New Castle County police said the suspects may be linked group of burglars called "crime tourists." They are often coming to the Philly region from other countries and ransacking homes, targeting those with cash and expensive jewelry, according to police.
"These folks coming from different countries, conducting these residential burglaries, and then fleeing back with stolen property," Corporal Michael McNasby said.
New Castle County police are investigating 20 home burglaries this year, which is an uptick from last year. They said vacant homes are being targeted and the alleged criminals are using high-powered walkie-talkies to communicate, instead of cell phones, because they can't be tracked.
"It's easier to communicate and doesn't leave that trail of breadcrumbs that a cell phone might leave in a case," McNasby said.
The suspects may be specifically targeting Asian business owners, police added.
"Because they typically have bags of cash on hand, so they are being targeted in some cases," McNasby said.
"We work hard to get that money. And losing it again a second time it's really frustrating," Huang said when asked what he would say to the burglars if he had the chance.
Police said people can protect their homes and property by having a working security system with cameras, plus door and window sensors. They also recommend locking all windows and keeping a list of expensive items and their serial numbers, like jewelry.
"It just makes it easier to track stolen property if we have specific information we're looking for," McNasby said.
Source: www.cbsnews.com