LOCAL LEADERS HOST JOINT PRESS CONFERENCE TO SPEAK ABOUT NEW PUBLIC SAFETY INVESTMENTS
¡Que Onda! Magazine was present during this week's press conference that was held by our local leaders on Monday morning.
Harris County Judge Lina Hidalgo, Commissioner Adrian Garcia, Harris County Sheriff Ed Gonzalez, and HPD, Executive Chief, Matt Slinkard discussed smart cost-effective investments in public safety that would be presented at the Harris County Commissioners Court the following day.
These local leaders will be proposing an additional $14.8 million toward public safety as well as securing a collaboration between HPD and the Harris County Sheriff's office. The main thing that they want to ensure is justice, protection for victims, public safety, and protection of officers in the field.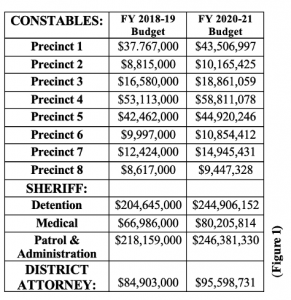 All the budgets are broken down in comparison from 2020-21 to 2018-19 (Figure 1). There was an overall increase of 15 percent and specifically a 12.4 percent increase within the constables. Budgets have helped toward various things in the past like allowing additional funding for those officers and detectives who are working overtime.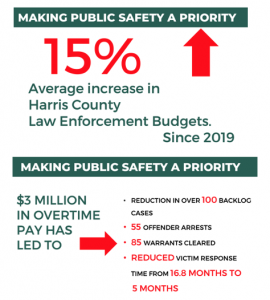 Due to the COVID-19 shutdown, not only was Harris County affected but so was our entire nation as a whole. Throughout this pandemic, Harris County has seen a significant increase in crime especially gun crime. "We are not powerless against this rising crime and we know what we need to do," stated Judge Hidalgo, "Justice delayed is justice denied."
One of the most important crime reform initiatives that they are going to tackle is to reduce the "unacceptable" backlog in the criminal court cases that our courts are currently facing. There are approximately 100,000 total cases pending in our criminal court system, which means that about 40,000 of those cases have exceeded national standards in the time it has taken for those cases to be resolved. There will be four major proposals made to address this backlog at the Commissioners Court.
What are they proposing? 
The first proposal that will be made is to bring in six associate judges to help assist 22 criminal district courts within Harris County in order to begin reducing the backlog that we currently have. Aside from these six associate judges, they will also propose funding for those visiting judges who can help move through the backlog and support the district court judges and associated judges. Over half a million dollars will also be proposed to expand jury operations at the NRG. Lastly, major and historic investments will be made toward law enforcement technology in order to ensure more efficiency and create a dent in our backlog.
Why is Law Enforcement technology important? 
One of the most effective and crucial pieces of evidence in certain cases has to do with the footage that officers capture on their body cam. The body cams that our officers currently have are body cameras that Commissioner Garcia himself said he was using back in 2010. Needless to say, the technology that is being used, is very outdated. County law enforcement agencies take approximately six months in order for the footage to be produced to prosecutors and defense attorneys via thumb drive. Therefore, our local leaders will be ensuring that this new funding will go toward equipping all officers with state-of-the-art body cameras that will provide the proper evidence to be brought to the prosecutor's office for effective prosecutions. Funding will also go toward providing officers and deputies with protective equipment like bulletproof vests.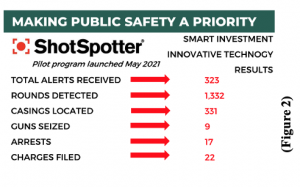 Another technology investment that Commissioner Garcia has already begun to pilot within Precinct 2, is Shot Spotter (Figure 2). They will be looking at new neighborhoods to place this high-tech-based tool in order to help more neighborhoods become safer the way that they have proven to do so within the Aldine area.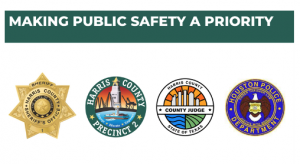 Our local leaders are making a conscious effort in proposing these initiatives to the Commissioners Court in order to bring justice and peace of mind to the citizens of Harris County. They are making sure that these funds are being put to proper use and like Commissioner Garcia said, "making sure that it's doing what it needs to do to keep our citizens safe."
By Yuliana Chacon.