Limited Edition T-Shirt for a Cause Brings Together Houston Celebs Alex Bregman, Paul Wall and Bun B to FEEDHOU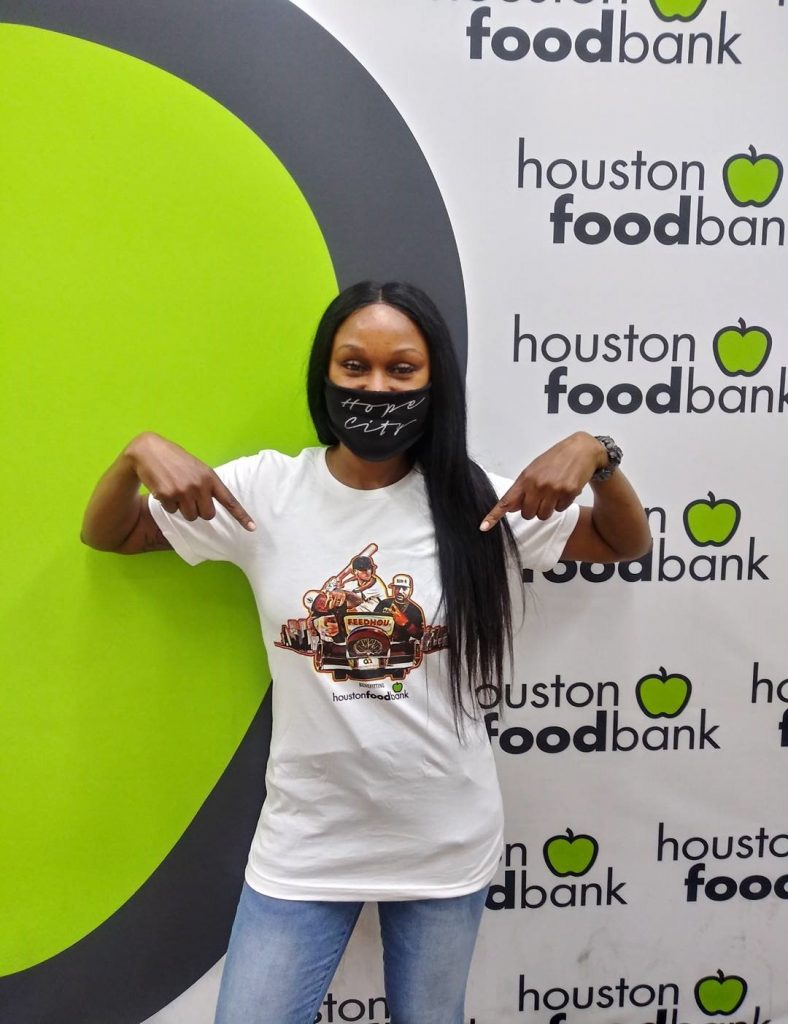 Project assisted by students from University of Houston Sales Excellence Institute as part of summer ServeHOU "internships" sponsored by 3M
HOUSTON … Houstonians can get a piece of wearable art with a limited-edition Houston t-shirt created in collaboration with Houston Astro Alex Bregman, Houston rappers Paul Wall and Bun B, Houston Food Bank and students at University of Houston.
Early in the pandemic, Alex Bregman and fiancé Reagan Howard began supporting Houston Food Bank with their FEEDHOU initiative with the goal of raising $1 million to help feed the growing need for food assistance caused by COVID. The goal was reached and exceeded, and a new goal of $2 million was set. To help Bregman round homeplate to that goal, students from Bauer College's Program for Excellence in Selling at the University of Houston engaged Houston Food Bank to create a sellable item as part of a summer internship program sponsored by 3M to help local nonprofits.
Many of the 150 undergraduate students within the Program for Excellence in Selling at the University of Houston lost sales internships this summer due to the COVID-19 pandemic. Sales Excellence Institute (SEI) corporate partner 3M provided a monetary grant that has given SEI the ability to scholarship 20 students as "interns" over the summer. Shortly after, Andy and Barbara Gessner, long-time donors of the Program for Excellence in Selling, provided additional funding that allowed SEI to scholarship an additional five students.
UH created the "serveHOU Initiative" with these funds, providing $3,000 scholarships to 25 Program for Excellence in Selling students over the summer as they partnered with five local Houston nonprofits in an effort to support their fundraising strategies. The students are "interning" with SEI, and program professors are supporting and engaging the students through a rigorous curriculum that includes an education in project management, leadership, nonprofit fundraising strategies, and digital sales. The students were split into teams of five, and tasked with analyzing the Houston nonprofit community and identifying the 5 best nonprofits to support. Nonprofits selected were Houston Food Bank, Elijah Rising, Kids Meals, Inc., A 2nd Cup, and Hope Village.
Each team created an engagement strategy that focused on increasing financial support through fundraising or selling products/solutions for their nonprofit. The students are collaborating to implement these specific strategies, with the support of the institute staff and professors. Each team meets regularly with the nonprofit leadership to review the strategy and gain exposure within the nonprofit ecosystem. At the end of the summer, each team will prepare a presentation for 3M that will detail their experience, unique successes, and key takeaways.
A team of five students from Bauer College's Program for Excellence in Selling at the University of Houston brought together Houston community leaders and Houston Food Bank supporters Bregman, Paul Wall and Bun B to collaborate on a limited-edition t-shirt for sale through the Houston Food Bank website and local retailers. The artwork was created by Mike Frost, a well-known Houston photographer and graphic designer, and local sneaker and streetwear retailer Active Athlete provided funding for the production of the shirts.
The shirt is a District Perfect Blend Tee made from the softest 50/50 blend of cotton and polyester with shoulder-to-shoulder taping, 1×1 rib neck and tear-away label. 1X1 rib knit neck. It is available in black or white, and men's and women's cut.
Cost of the shirt is $25 plus shipping. The shirt officially went on sale on July 13, 2020 (713 Day – the date corresponding with Houston's main area code), and will be available until the limited supply runs out.
About SEI:
For over 24 years, the Stephen Stagner Sales Excellence Institute at the C.T. Bauer College of Business at the University of Houston has made a difference in the world of ideas, in the lives of our students, and in our college, university, and communities by solving problems related to Research, Executive Education, and Recruiting.  Through these pillars, we are able to offer the expertise of executive professors with real-world experience and Ph.D. research professors who are today's leading, most widely published authors in the sales discipline.
About 3M (3MGives):
3M improves lives and builds sustainable communities through social investments and thoughtful engagement of 3Mers worldwide. Through both corporate giving and the 3M Foundation, we support initiatives that impact communities and provide solutions to some of the world's most pressing challenges.
About Andy and Barbara Gessner:
Gessner, a native Houstonian with a street named after his family, and a professed "peddler," joined Industrial Air Tool (IAT) in 1979. IAT was founded in 1966 to repair pneumatic tools for the oil and chemical industries. Today, IAT is an industrial distributor carrying over 20,000 different items in inventory and representing 700 manufacturers' products. Gessner has actively managed the company through many industry cycles and through various equity partners. He has been involved with buying and selling the company several times.

Barbara, originally from Ohio, is a graduate of Texas Woman's University. While raising their daughter, Barbara was an active school and community volunteer and supported Andy in his career. They are the proud grandparents of two grandchildren.
About Houston Food Bank
Houston Food Bank's mission is to provide food for better lives. Last year we provided access to 104 million nutritious meals in 18 counties in southeast Texas through our 1,500 community partners which includes food pantries, soup kitchens, social service providers and schools. We have a strong focus on healthy foods and fresh produce. In addition to distributing food, we provide services and connections to programs that address the root causes of hunger and are aimed at helping families achieve long-term stability, including nutrition education, job training, health management and help with securing state-funded assistance. We are a resource for individuals and families in times of hardship. We are a solution to food waste, working with grocery stores and growers to rescue food before it reaches landfills. In collaboration with our community, we advocate for policy change and promote dialogue on ways to increase access to food and to improve the lives of those we serve. Houston Food Bank works alongside our partner food banks in Montgomery County, Galveston Country, and Brazos Valley. Houston Food Bank is a certified member of Feeding America, the nation's food bank network, with a four-star rating from Charity Navigator.
Visit us online. Website: houstonfoodbank.org; Facebook: www.facebook.com/thehoustonfoodbank; Twitter: @houstonfoodbank; Instagram: @houstonfoodbank; Youtube Channel: http://www.youtube.com/houstonfoodbank