Jimmy Fallon and Stephen Colbert shows off air due to TV writers' strike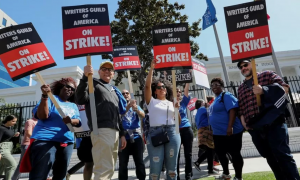 Late-night comedy shows have been taken off air in the US after a strike by writers brought production to a halt.
More than 11,000 television and film writers are on strike as their union seeks a deal for better wages and job security.
The Writers Guild of America (WGA) strike is the largest of its kind since 2007 and has impacted some of television's most-watched shows.
Picket lines formed outside studios in Los Angeles and New York on Tuesday.
Speaking outside the Paramount studios in LA, The West Wing actor Rob Lowe said: "I came out to support the writers because as actors, we're only as good as the writing we get."
Here's a quick breakdown on the immediate impact the strike will have on viewers, and how the last strike of this kind changed television.
Which shows are affected?
On Tuesday, without their writing teams penning jokes, all of the top late-night talk shows went dark.
NBC's The Tonight Show starring Jimmy Fallon, Comedy Central's Daily Show with Trevor Noah and ABC's Jimmy Kimmel Live were pulled off air, along with CBS' The Late Show with Stephen Colbert and NBC's Late Night with Seth Meyers.
As the week goes on, NBC's flagship sketch show Saturday Night Live will air repeats instead.
Can AI be as funny as Stephen Colbert?
TV writers explain why they're walking out
How a Hollywood strike could affect your TV
Daytime soap operas could also soon be disrupted, like The Young and the Restless and General Hospital, as the episodes are written, filmed and broadcast in a short timeframe.
Depending on the duration of the strike, primetime comedies and dramas will likely continue as scheduled for now, as seasons for those have already been written and filmed.
If the strike goes into the summer, new seasons of top shows could be pushed back and delayed.
The LA Times noted that filming permits have been sought in the city for some TV productions, even as the strike gets under way.
Netflix said it will feed its service with shows produced outside of the US as the strike continues. Meanwhile, HBO Max, which recently rebranded as Max, said it had an arsenal of shows already written, filmed and ready to release.
Will films be hit?
Probably not. Full-length feature films take two to three years to produce, and studios already have a steady stream of movies already shot and written. Though it all depends on how long this strike lasts.
What happened last strike?
The last writers' strike in 2007-2008 lasted 100 days and cost the California economy $2bn (£1.6bn) due to many cancelled and delayed shows.
Big fan favourites like Ugly Betty, Desperate Housewives, Breaking Bad and The Office were all affected. Other shows went on without their writers, but their quality was significantly hit.
Even a James Bond movie, Quantum of Solace, suffered. The movie's script had barely been written when the strike began.
"There was me trying to rewrite scenes – and a writer I am not," Bond star Daniel Craig said at the time.
Similar to this strike, late-night shows also felt the most immediate effect without the help of writers drafting their scripts and jokes.
One host, Conan O'Brien, went on air and simply spun his wedding ring for as long as possible in solidarity with the striking writers.
Some have credited the last strike for boosting the prominence of reality TV, like Donald Trump's The Apprentice and Keeping Up with the Kardashians, as those shows do not require any pre-writing.
Back then, many daytime soap operas stayed on air with non-union writers. This time, the Writers Guild has warned that any writers that break the strike will be banned from future membership.
The last strike, however, was not the longest: a Writers Guild strike in 1988 lasted 153 days.
As for how long this current strike will last, it is anybody's guess.
Why are the writers on strike?
US writers have gone on strike largely due to issues tied to fair wages, especially in the face of a rapidly expanding streaming economy.
Writers have reported being paid less when working on shows that are commissioned or led by streaming platforms.
In broadcast television, writers would be hired for a 22-episode season of television and would be paid – often handsomely – upfront, and then also receive residual fees when shows were rerun.
But nowadays, writers working on shows for streaming platforms have spoken out on being asked to provide weeks or months of rewrites of scripts without compensation.
The length of seasons for streamers has also shrunk – sometimes just six-to-eight episodes in total – meaning less money to go around overall.
Another notable issue is the emergence of artificial intelligence (AI) and the impact it could have on script writing. The guild wants assurances that humans will still get work, no matter how clever or creative these AI systems will become.