Jennifer Lopez gana el premio "artista ícono" en People´s Choice Awards 2020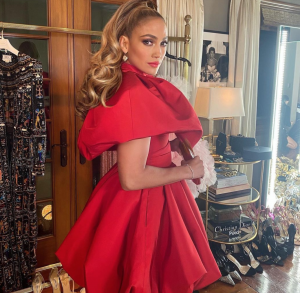 Jennifer López acaparó los reflectores no solo por el premio que recibió en esta edición de los People´s Choice Awards 2020, también porque decidió asistir con un vestido rojo ceñido al cuerpo con una falda en corte "V" con pliegues y una capa que cubría su pecho y su espalda, el cual, fue diseñado por Christian Siriano para su colección primavera de 2021 y que complementó con una clutch del mismo color, unas zapatillas de PVC creadas por Gianvito Rossi, un labial rojo y un peinado de cola alta que se amarró con su mismo pelo y que en las puntas tenía rulos. Todo esto bajo la guía del fashion stylist Rob Zangardi.
No era para menos, Jennifer Lopez recibió el galardón como "People´s Icon of 2020" en la entrega número 46 de los People´s Choice Awards que se celebraron en uno de los hangares del Aeropuerto de Santa Mónica, mejor conocido como "Barker Hangar" y que se usa para ceremonias de premios y conciertos. El pasado domingo 15 de noviembre, la intérprete de "On the floor" fue reconocida por su destacada trayectoria en la música, el cine, la televisión y la moda, desde su participación en la película Selena en 1997 hasta su colaboración junto a Shakira en el show del medio tiempo del Super Bowl LIV en febrero de este 2020
Sin embargo, la celebridad, no solamente acaparó la atención por su sexy outfit y el premio, también porque al momento de recibir el galardón, Jennifer Lopez pronunció un discurso que erizó la piel. "Como latina y como mujer, tenemos que trabajar el doble de duro para obtener las oportunidades, a veces mis grandes sueños y mis ambiciones, eso puso nerviosa a la gente a mi alrededor", comenzó diciendo y continuó. "Cuanto más decían que no podía, más sabía que tenía que hacerlo. Así que ahora estoy muy agradecida de saber que la verdadera medida de mi éxito no está en los números de taquilla ni en los discos vendidos, sino en el amor que tengo. Lo siento de todos ustedes", dijo durante la ceremonia en vivo que se transmitió por en la canal de E! Enterteiment.
Luego de ver una serie de videos donde amigas suyas como Nicole Kidman reconocieron su carrera, Jennifer Lopez terminó su discurso diciendo que uno de sus objetivo es inspirar a las niñas de todo el mundo y todas las edades para que sepan que ellas pueden hacer lo que quieran y que se sientan orgullosas de ser quiénes son y donde estén. "Quiero que sepan que sus sueños están limitados solo por su imaginación, determinación y su voluntad de nunca darse por vencidas".