Israeli Tanks Surround Gaza Hospital Amid Rising Tensions, WHO Expresses Shock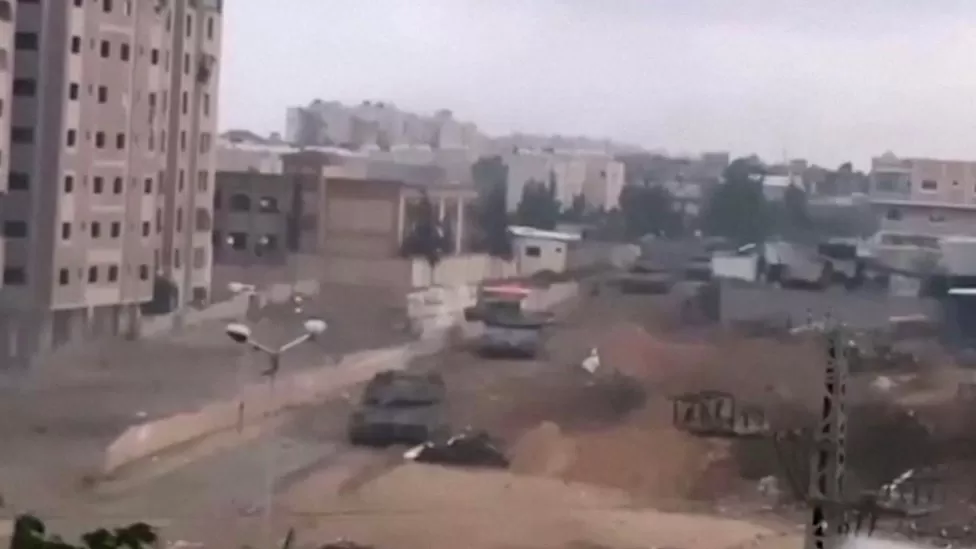 Reports indicate that Israeli tanks have surrounded Gaza's Indonesian Hospital, where 12 people were reportedly killed on Sunday night, according to the Hamas-run health ministry. Dr. Marwan Al-Sultan, the hospital's director, informed the BBC that the post-operative care department was hit, with troops only about 20m away. The Israeli military claims to have targeted "terrorists" who fired from within the hospital. The head of the World Health Organization (WHO) expressed dismay, emphasizing that health workers and civilians should not face such horrors, especially within a hospital.
The health ministry accused Israel of tightening its grip on the hospital, with 200 patients evacuated to Nasser Hospital in Khan Younis, and the International Committee of the Red Cross coordinating the evacuation of the remaining 400 patients. Additionally, 28 premature babies from Al-Shifa Hospital, raided by Israeli forces last week, were transported to Egypt for treatment.
The conflict escalated after a cross-border attack by hundreds of Hamas gunmen on October 7, resulting in a significant military campaign by Israel. Gaza's health ministry reports at least 13,000 deaths since the retaliatory campaign. Despite calls for humanitarian pauses, the killing and suffering of Palestinians have reportedly increased.
Video footage showed tanks near the Indonesian Hospital, with reports of snipers preventing ambulances from reaching the site. The health ministry stated that an Israeli shell hit the hospital's second floor, killing 12 and injuring dozens. Hospitals are protected under international law, requiring military operations to spare patients and civilians.
The Israel Defense Forces (IDF) maintained they targeted the source of enemy fire, denying firing shells at the hospital. US President Joe Biden expressed optimism about a hostage deal in Gaza, with the ICRC facilitating discussions. The IDF released videos from Al-Shifa Hospital, claiming an underground Hamas command center. Hamas denies using hospitals as shields.
The WHO is finalizing plans to evacuate patients from Al-Shifa, including those with severe injuries. Médecins Sans Frontières reported its Gaza City clinic coming under fire, endangering staff and patients. The situation remains complex and deeply concerning as efforts are made to address the humanitarian crisis.