Isobutylene Burning in Crosby Plant Fire That Killed 1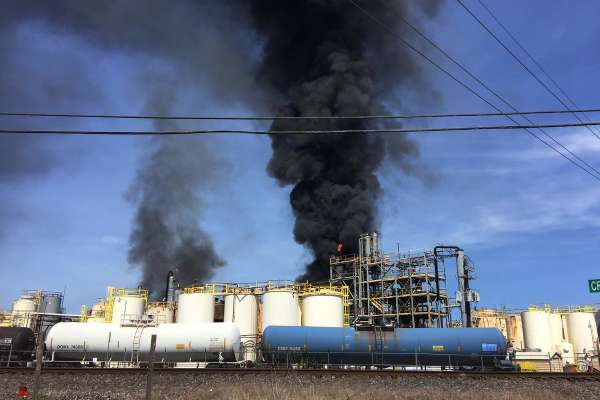 Authorities said at least one person was killed Tuesday when isobutylene ignited and exploded at a chemical plant in Crosby.
A photo shared with KPRC showed a large plume of black smoke rising from behind a line of trees. The person who took the picture said they heard a loud boom in the area. Other people in the area reported that the blast shook their homes.
Harris County Sheriff Ed Gonzalez said in a tweet that the fire was burning at a chemical plant off Old Highway 90 and that roads are closed in the area. Video from SKY2 showed that the fire was happening at the KMCO plant on Ramsey Road at Crosby Dayton Road.
Officials at the Texas Commission on Environmental Quality said in a tweet that personnel have been dispatched to the area and that local authorities have begun assessing environmental concerns.
Environmental Protection Agency officials said that air quailty is being monitored from both the air and the ground, and that no toxic levels of gas have been detected.
According to the company's website, the plant manufactures products like antifreeze and brake fluid. John Foley, president and CEO of KMCO, issued the following statement about the fire: "There was an incident resulting in an ignition and fire today April 4, 2019, at KMCO, LLC in Crosby, Texas.
We are deeply saddened to confirm at this time that there have been injuries and one fatality. Those injured have been transported for medical treatment. Our hearts and prayers go out to the individuals involved, as well as our first responders, employees and our community.
"We have activated the company's emergency response team and incident command center. We are working with local first responders to extinguish the fire. We will give another update as additional information becomes available.
"We apologize for any inconvenience to residents in the vicinity. The wellbeing of our people, neighbors and the environment remain our top priorities."