Important Update on Ongoing BlueCross BlueShield Negotiations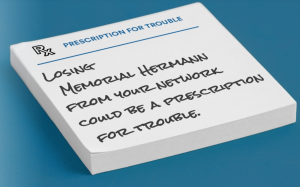 For the past six months, Memorial Hermann has been negotiating with BlueCross BlueShield of Texas (BCBSTX) for new contracts that more appropriately cover the care our hospitals and facilities provide across Greater Houston, in addition to our critical physician group and accountable care program agreements that enable us to deliver exceptional and affordable patient care.
We want you to know that we've been working around the clock to reach new agreements, exhausting all options and offering creative solutions that should have been mutually agreeable to all parties.
Unfortunately, despite our very best efforts, we have been unable to reach an agreement at this time, which means, effective March 1, 2022, BCBSTX has dropped Memorial Hermann from its networks.
This means that more than 265 of Memorial Hermann's hospitals and care delivery sites, plus a significant number of affiliated physicians and specialists, may no longer be in your network.
While we've done everything in our power to work with BCBSTX to ensure our patients can continue to access Memorial Hermann facilities and physicians for care, BCBSTX's decision to force us out-of-network puts patients at risk of experiencing significant disruption.
This isn't right, and Memorial Hermann will continue to do everything we can to reach an agreement that brings all of these critical resources back in-network so you get the trusted care you need.
If you are pregnant or receiving treatment for an ongoing special medical condition, BCBSTX requires its members to complete and submit a Continuity of Care Form in order to confirm eligibility and approval for extension of in-network coverage. This form also covers BCBS members in Oklahoma, New Mexico, Montana, and Illinois and can be found here: https://www.bcbstx.com/pdf/bcbstx-continuity-of-care-form.pdf. If you have a BCBS plan from any other state, please call the Members Services phone number on the back of your insurance id card for further instruction.
Your healthcare should be up to you—not your insurance provider. Here's what you can do to maintain in-network access to Memorial Hermann:
If you receive health insurance through your employer, speak with your benefits manager. Ask about alternative health plans that re-instate your in-network access to Memorial Hermann and its affiliated providers.
If you are enrolled in a Medicare Advantage plan managed by BCBSTX, you may be able to switch health plans through March 31, 2022. Contact a trusted family member, or broker, to review alternative plans that include in-network access to Memorial Hermann.
If you experience a medical emergency, please know that you will always have access to our emergency rooms, regardless of our contract status with BCBSTX.
Source: memorialhermann