Houston's Frida Festival Announces Its 18th Annual Festival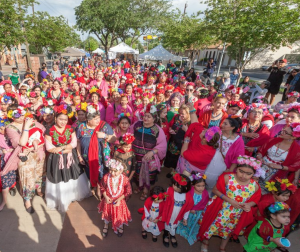 The Festival Will Unite the Houston Community Through a Variety of Community Events and Workshops for All Ages
Houston, Texas (March 30, 2023) – Award-winning artist and curator, Lizbeth Ortiz, created Houston's Frida Festival in 2005 and it originated in the East End of Houston. It has been held in various locations throughout the city including the Hardy & Nance Studios, Navigation Esplanade and Discovery Green, bringing together Houston's local community for almost two decades to celebrate the legacy and inspiration of Mexican painter, Frida Kahlo.
Now entering its 18th year, Houston's Frida Festival is proud to announce its creative partnership with Multicultural Education and Counseling Through the Arts (MECA) and Houston's Tony Award®-winning theatre, Alley Theatre El Zócalo, bringing together the expertise of all three organizations to create unique and unforgettable events that celebrate the life and work of Frida Kahlo. "We are thrilled to be partnering with MECA for the second consecutive year and the Alley Theatre El Zócalo for the first time for this year's Frida Festival," said Lizbeth Ortiz, Founder of Frida Festival. "Together, we will create an event that captures the spirit of Frida Kahlo and showcases the vibrant cultural traditions of Mexico. We look forward to welcoming visitors from all over the world to this celebration of art and culture."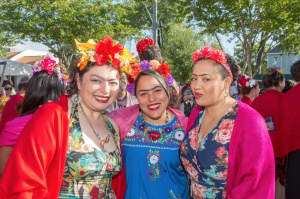 Armando Silva, MECA's Acting Executive Director and MECA alumnus, shares, "MECA is proud to open its doors at the Historic Dow School in Houston's Old Sixth Ward to help bring the Frida Festival to life again this year. It seems like not long ago, Lizbeth and I were student artists at MECA with only our dreams. Today, we are bringing some of those dreams to fruition."
Frida Festival aims to unite the community by collaborating with local artists, organizations, and businesses to celebrate the life of one of Latin America's most highly respected visual artists – Frida Kahlo with a series of Frida-inspired events such as a visual art exhibition, a fundraising event, an outdoors festival, and free educational workshops for the entire family. "Through our creative partnership with the Frida Festival, Alley Theatre El Zócalo is offering free educational bilingual workshops and discounted performance tickets as part of our Hispanic initiative bringing equity, diversity, inclusion, and accessibility for residents in the City of Houston," explains Baldemar Rodriguez, Alley Theatre Manager of Community Partnerships.
Frida Festival Events:
Launching the festival is "Viva Frida!" Art Exhibition on Saturday, April 8, 2023 from 6-9 p.m. at MECA East End (333 S Jensen Dr., Houston, TX 77003). The exhibition will provide visitors with a deeper understanding of Frida Kahlo's art, life, and cultural impact. This event is FREE and open to family members of all ages.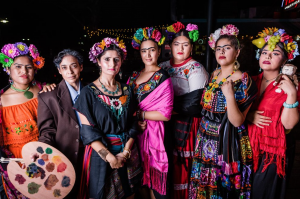 Next, is a fundraising event Frida en Primavera Dinner & Fashion Show on Wednesday, April 19th, 2023 from 6-10 p.m. at The Ballroom at Bayou Place (500 Texas Ave., Houston, TX 77002). Fashion designers will style models and showcase their Frida-inspired interpretations on the runway. One of the featured designers is Emmy Award®-winner Alan Gonzalez of Project Runway. The evening features Frida's iconic style, which was known for its bold colors, intricate patterns and the use of floral motifs. Proceeds will benefit MECA. Tickets start at $150 and can be purchased by visiting this link.
Next, is our Alley Theatre El Zócalo educational workshop EducArte: Tu Voz on April 21, 2023 at Meredith J. Long Theatre Center (615 Texas Ave., Houston, TX 77002) from 6-8:30 p.m. Participants will learn the ins and outs of poetry writing and reading using two fearless women as inspiration: Frida Kahlo and aspiring bullfighter Elena Ramirez, the character of Alley Theatre's world premiere play, Torera, written Monet Hurst-Mendoza and directed by Tatiana Pandiani. EducArte: Tu Voz is FREE and open to the public. Registration is required at alleytheatre.org/ezevents. Space is limited.
For the main event and culminating, the 18th Annual Frida Festival is on Saturday, April 29, 2023 at MECA's Historic Dow School (1900 Kane St., Houston, TX 77007) in the heart of Houston's Old Sixth Ward from 11 a.m. to 7 p.m. The festival will feature local musicians and performers and an arts market with a wide range of merchants, vendors, artisans and one-of-a-kind finds. We will also have our famous Frida look-alike contest for all ages. For the first time, we will facilitate the contest online with an announcement of the winner at the Frida Festival. The 18th Annual Frida Festival is FREE and open for family members of all ages. For photos of previous Frida Festivals, please visit this link.
Continuing the celebration of fearless women, is Alley Theatre's El Zócalo Torera Community Night Reception on Friday, May 19, 2023 from 5:30-7:30 p.m. at Meredith J. Long Theatre Center (615 Texas Ave., Houston, TX 77002). Torera Community Night Reception celebrates fearless women such as Frida Kahlo and Elena Ramirez, the character of Alley Theatre's world premiere play, Torera, written by a stunning new voice in American theatre, Monet Hurst-Mendoza. This event is open to the public and requires the purchase of tickets to the performance of Torera on May 19, 2023 at 8:00 p.m. Discounted tickets are available for $40 using the promo code TORERA. RSVP is required for the Torera Community Night Reception. To RSVP and purchase tickets visit alleytheatre.org/ezevents. Space is limited.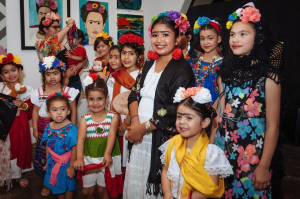 About Lizbeth Ortiz: Born in Mexico City and raised in Houston, artist and curator, Lizbeth Ortiz, graduated from Houston's High School for the Performing and Visual Arts and attended Pratt Institute in Brooklyn, New York. Over the years, she has developed a singular style by utilizing recycled materials, various modeling pastes and gels into all of her art. In 2005, along with a community of inspired artists, Lizbeth organized the first Frida Festival in Houston. Lizbeth currently lives in Houston where she takes pride in following her creative heart, making art and curating shows for MECA Houston and MuXer HTX. To learn more about Lizbeth Ortiz and her artwork, visit lizbethortiz.com
About MECA: Founded in 1977, Multicultural Education and Counseling Through the Arts (MECA) is a community-based non-profit organization housed in the historic Dow School building in Houston's Old Sixth Ward. MECA is committed to the healthy development of underserved youth and adults through arts & cultural programming. MECA received 501(c)(3) status and was incorporated in 1979. In 1993, MECA moved to its current home in the historic Dow School building in the Old Sixth Ward. Built in 1912 and listed on the National
Register of Historic Places, the school is currently undergoing restoration through MECA's Dow School Rehabilitation Project. Today, MECA offers classes through the Out-of-School Program which includes classical and ethnic instrumental studies, as well as support services for families. In 2019, MECA assumed management of the former Talento Bilingue de Houston (TBH Center), the 10,000-square-foot building adjacent to Guadalupe Plaza Park in Houston's East End. Currently, MECA's East End campus (TBH Center) is open seven days a week and is home to folkloric dance companies and theater groups of various ethnicities that rehearse and perform there. For more information about MECA, visit: meca-houston.org
About Alley Theatre: Alley Theatre, one of America's leading nonprofit theatres, is a nationally recognized performing arts company led by Artistic Director Rob Melrose and Managing Director Dean R. Gladden. The Alley is committed to developing and producing theatre that is as diverse as the Houston community. The Alley produces up to 11 plays and nearly 400 performances each season, ranging from the best current work and classic plays to new plays by contemporary writers. Home to a full-time resident company of actors and expert artisans in all theatre crafts, the Alley engages theatre artists of every discipline – actors, directors, designers, composers, playwrights – who work on individual productions throughout each season as visiting artists.
Alley Theatre performs at the Meredith J. Long Theatre Center which is comprised of two state-of-the-art theatres: the 774-seat Hubbard Theatre and the 296-seat Neuhaus Theatre. The Alley reaches over 200,000 people each year through its performance, education, and community engagement programs.
About Alley Theatre El Zócalo: Alley Theatre launched its El Zócalo (EZ) initiative in 2017 with the visiting touring production of Misa Fronteriza from Monterey, Mexico, and the establishment of the El Zócalo Advisory Team. With the goal of nurturing long-term relationships with community members at multiple engagement levels, El Zócalo creates opportunities for Latinx artists and community members to share their stories, explore their heritage, and form meaningful connections that bridge the class and cultural divide that often exists between separate "neighborhoods."
About Torera: Welcome to el mundo taurino, the bullfighting world, as seen through the eyes of a teenage girl aspiring to become a female bullfighter. Bullfighting in Yucatán, Mexico is a world nearly exclusive to men—yet for Elena Ramírez, it is her life's ambition. With the help of her best friend, a matador's son, Elena begins secretly training to compete with the greatest. But when she discovers that her seemingly inherent talent can beat even the most accomplished toreros, this young woman must choose between accepting society's limits or breaking boundaries. A world premiere play written by a stunning new voice in the American theatre, Torera tells a poignant story about becoming your truest self by proudly stepping into the ring. Torera by Monet Hurst-Mendoza and directed by Tatiana Pandiani runs May 12 – June 4, 2023, in the Neuhaus Theatre. The play was developed in the 2022 Alley All New Festival. To buy tickets, visit alleytheatre.org.