Houston Texans Schedule 2023: Dates, Times, TV Schedule, and More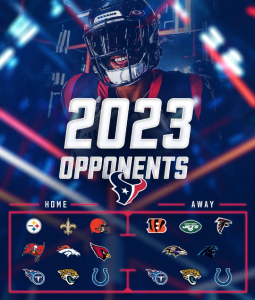 What is the Houston Texans' schedule for 2023, where do they rank in terms of strength of schedule, and what record could they be looking at?
The Houston Texans are looking ahead to what they hope is a successful future after securing their identities on both sides of the ball. Head coach DeMeco Ryans will aim to guide the team through the 2023 schedule as they continue to reshape an organizational culture in need of a revamp. We now know what the Texans' 2023 schedule looks like, but how will they fare this season?
Houston Texans Schedule
Week 1: at Ravens
CBS | 1 p.m. (Sunday, Sept. 10)
Week 2: vs. Colts
FOX | 1 p.m. (Sunday, Sept. 17)
Week 3: at Jaguars
FOX | 1 p.m. (Sunday, Sept. 24)
Week 4: vs. Steelers
CBS | 1 p.m. (Sunday, Oct. 1)
Week 5: at Falcons
FOX | 1 p.m. (Sunday, Oct. 8)
Week 6: vs. Saints
FOX | 1 p.m. (Sunday, Oct. 15)
Week 7: BYE
Week 8: at Panthers
FOX | 1 p.m. (Sunday, Oct. 29)
Week 9: vs. Buccaneers
CBS | 1 p.m. (Sunday, Nov. 5)
Week 10: at Bengals
CBS | 1 p.m. (Sunday, Nov. 12)
Week 11: vs. Cardinals
CBS | 1 p.m. (Sunday, Nov. 19)
Week 12: vs. Jaguars
CBS | 1 p.m. (Sunday, Nov. 26)
Week 13: vs. Broncos
CBS | 4:05 p.m. (Sunday, Dec. 3)
Week 14: at Jets
CBS | 1 p.m. (Sunday, Dec. 10)
Week 15: at Titans
CBS | 1 p.m. (Sunday, Dec. 17)
Week 16: vs. Browns
CBS | 1 p.m. (Sunday, Dec. 24)
Week 17: vs. Titans
FOX | 1 p.m. (Sunday, Dec. 31)
Week 18: @ Colts
TBD (Sunday, Jan. 7)