Houston Police Chief Art Acevedo tearfully thanks Houston community as he prepares for new position in Miami
Houston Police Chief Art Acevedo tearfully thanked Houston and the department Tuesday after announcing he would be leaving to become the police chief in Miami.
Surrounded by several members of the Houston Police Department, Acevedo said he wanted everyone to understand how he came to the decision to leave Houston.
"I decided to take the Miami position because Miami is a world-class city like Houston," Acevedo said. "Miami is an international city like Houston. Miami is the gateway to Central America, the Caribbean, and Europe. It is a very diverse community like Houston."
Acevedo continued by saying everything is about timing. He said when the opportunity to become police chief in Miami was presented, he had been heavily thinking about what was next.
"My heart was like, 'What am I going to do next?' I love being a cop. I love cops. I've been contemplating what's next," he said.
Acevedo said he contemplated taking a federal position with one of the biggest departments in the country, and he also contemplated going back to Los Angeles to run for sheriff or join the private sector.
Acevedo ultimately decided to accept the position in Miami on Monday. He said after having a short professional courtship with the Mayor of Miami, he felt that the two of them really connected.
The HPD chief also weighed in on who he thought would be a good fit for the next police chief in Houston. Acevedo said he hopes Mayor Turner will consider one of HPD's executive assistant chiefs for the position.
"I've been praying for that," Acevedo said. "I would challenge any member of the community. If they look at how the summer of protests across this country — and we saw buildings burning and so many bad things happening — to compare the performance of our department to a lot of other departments and the relationship with this community and this department.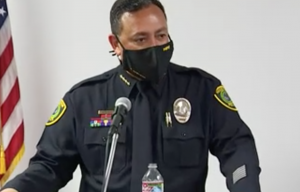 Acevedo said his departure would allow for someone else in the department to have an opportunity to grow.
"We're going to leave this department in great hands. I will be leaving a big piece of my heart in Houston. I'll be leaving a big piece of my heart in Texas," Acevedo said.
Things did get heated during the news conference when KPRC 2 Investigates questioned Acevedo over the skyrocketing homicides in Houston.
"The crimefighting strategies aren't the issue. When you have a court system that's shut down because of COVID or Harvey, what's the next excuse? Get those courts open. If they don't want to work, get out," Acevedo said.
The fight to get repeated offenders off the streets of Houston has been an issue Acevedo says he's been working on since he became chief.
Acevedo said he will continue to help Houston and see-through certain incidents that happened under his watch like the Harding Street raid.
"I'll be back for Harding Street. I'll be continuing to watch Harding Street. I want to see this through. it happened on my watch and I'll like to see this through," Acevedo said.
Acevedo did not detail when his last day would be in Houston, but Mayor Sylvester Turner is expected to make an announcement about the next chief this week.
Source: www.click2houston.com