Houston METRO Red Line brings in buses to shore up service gaps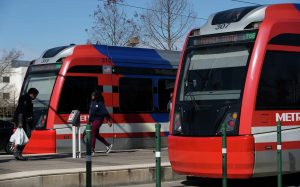 Two-way buses will run in rotation while Houston's METRO Rail Red Line remains under maintenance Monday, Feb. 13, according to an alert by the METRO Transit Authority. Maintenance on the rail line began on Sunday, Feb.12.
Every 10 minutes, the buses will transport passengers between Burnett Transit Center/Casa de Amigos and the Northline Transit Center/Houston Community College. The Red Line is one of three major lines in the city, with 25 stops.
According to METRO Transit Authority, the free shuttle service may require additional travel time for passengers.
For additional assistance or questions, passengers can call or text METRO's Customer Service Center at 713-635-4000 from 8 a.m. to 5 p.m. Passengers can also check METRO's Facebook and Twitter for social media updates.
In addition to maintenance on the METRO Red Line, Feb.11 was the last meeting for customers to add their comments on the METRO Rapid Gulfton Corridor Project. The project would create a new line in Gulfton traveling to Westpark/Lower Uptown Transit Center and the Northwest Transit Center. More specifically, the bus-only lanes would run in places like Westpark Drive to Gulfton Street, Chimney Rock Road to Hillcroft Avenue, Gulfton Street to High Star Drive and High Star Drive to Bellaire Boulevard.
The project is currently in the development stage and, when completed, will include wider doorways for better accessibility and level boarding.
According to the METRO website, Gulfton is one of the most congested areas in the Houston metro and one in which public transportation is the first choice for residents.
Source: chron