Houston ISD board of trustees hold last meeting before state takeover of district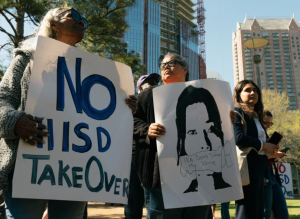 The Houston ISD board of trustees held its last scheduled meeting Thursday night before the state takes over the largest school district in Texas.
It was an emotional sign off from board members.
"I'm not going away. I will be watching, asking for transparency, and sharing information with the public," said Trustee Judith Cruz.
Many of the board members promised not to turn their backs on the district when they are forced to turn their seats over to the state.
"I will continue to be your elected official, even after the fake board continues with their hostile takeover. There is no way that one man should be able to overturn the votes of one-million people," said Trustee Patricia K. Allen.
Before the passionate last words, it was business as usual. Trustees approved a few proposals, including expanding access to high quality pre-kindergarten care within the district. They also voted against several items including an amendment for the May budget. Some on the board voiced their concern over what they call inequities in the district's spending.
"There are campuses that continue to receive a one-time fund, year, after year, after year, and we have campuses that are having their funding reduced because there is no funding, allegedly," said Trustee Myrna Guidry.
Superintendent Millard House II took the opportunity to express his gratitude to students, teachers, and the community for their support and teamwork during his time in the district.
"It's been an honor and a privilege to serve as your superintendent, and I'm proud of all that we have accomplished together," said House.
The TEA is expected to appoint HISD's new Board of Managers on or after June 1st.