Houston Health Department to open second COVID-19 drive-thru site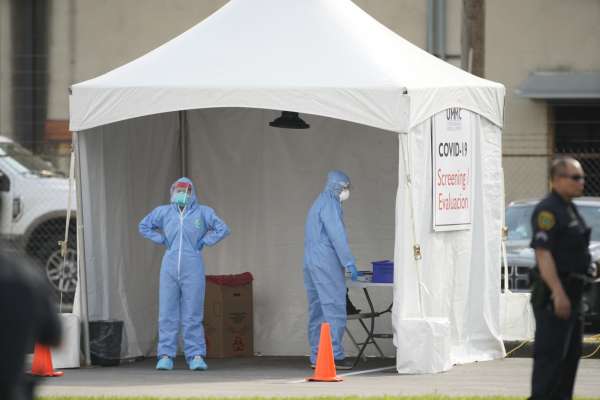 The Houston Health Department will double its daily COVID-19 testing capacity when it opens its second community drive-thru test site for people with symptoms on Wednesday.

"Opening a second testing site to double our testing capacity is critically important for the City of Houston. It is imperative that we test people who are sick and have underlying health conditions," Mayor Sylvester Turner said. "We need robust testing as we work to blunt the progression of COVID-19."

The new site will have capacity for 250 test per day, mirroring the daily volume of the first drive-thru site that the department opened March 20. Approximately 2,225 people have tested for COVID-19 at the first site.

"Increasing access to COVID-19 testing is crucial to helping to further slow the spread and save lives," said Dr. David Persse, local health authority for the Houston Health Department. "We are fortunate to have a robust local medical community able to partner with our department to make mass testing a reality."

People with fever, cough and difficulty breathing – the common COVID-19 symptoms – can call the department's COVID-19 call center at 832-393-4220 between 9 a.m. and 7 p.m. to get screened. They will receive a unique identification code and instructions on where to go for testing and how to obtain their test results.

The community sites only accept people with the identification code obtained through the screening process. People showing up at the test sites without an identification code will not get tested.

Persse recommends people with COVID-19 symptoms first check with their family doctor before seeking screening at a drive-thru site.

The testing sites are a public-private partnership that includes the City of Houston, Texas Medical Center institutions Houston Methodist, Memorial Hermann and CHI St Luke's Health, and HCA Houston Healthcare.

The department is not identifying its testing sites to prevent people from showing up and being turned away because they did not complete the screening process.

The department respectfully asks news media to refrain from showing close images of the centers when they are operational to protect patient privacy. Close images of people or vehicles may lead to people being identified and discourage other symptomatic people from participating, furthering COVID-19 spread in the community.

The testing site will continue operating until further notice.

Workers at the sites only collect insurance information and don't accept payment. The information obtained through testing or services will not be used against immigrants in their public charge evaluation.

Houstonians may visit HoustonEmergency.org/covid19 for updated information about local risk, routine protective actions, frequently asked questions, communication resources, rumor control, emergency preparedness tips and more.