Houston Gun Buyback Event Yields 559 Firearms: Collaborative Effort Addresses Community Safety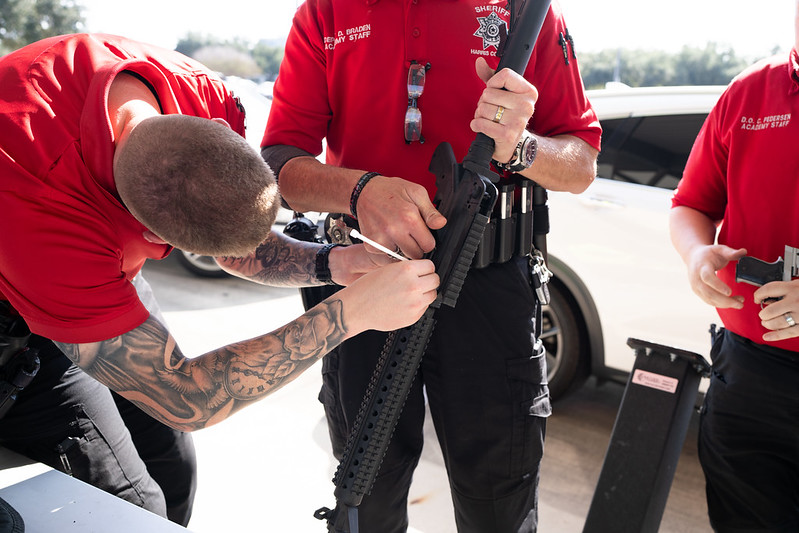 On Saturday, residents in the Houston area participated in the fifth gun buyback event organized by Harris County Commissioner Lesley Briones in collaboration with Harris County Sheriff Ed Gonzales and Houston Mayor Sylvester Turner. The drive-thru event, held at METRO's Westchase Park and Ride on Harwin Drive, saw 559 guns turned in by participants before the gates opened at 8 a.m. In exchange, 1,557 gift cards, totaling almost $78,000, were distributed to those who voluntarily surrendered unwanted firearms for proper disposal.
Funded by the federal American Rescue Plan Act of 2021 (ARPA), the gift cards were part of efforts to enhance community safety. The surrendered firearms included 155 Semi-Automatic Handguns, 124 Semi-Automatic Rifles, 82 Revolvers, 77 Shotguns, 59 Hunting Rifles, 58 Non-functioning firearms, and 4 Single-shot guns.
Commissioner Lesley Briones emphasized the importance of such initiatives in preventing crime, particularly youth suicides, school shootings, and domestic violence incidents. The Bureau of Alcohol, Tobacco, Firearms and Explosives, in conjunction with the Harris County Sheriff's Office, will process each turned-in gun to determine its involvement in crimes.
Houston Mayor Sylvester Turner highlighted the collaborative efforts, including gun buyback programs, as essential tools in addressing gun violence. Harris County Sheriff Ed Gonzalez expressed optimism about positive results and emphasized the importance of proactive measures.
Houston City Councilmember Abbie Kamin stressed the significance of disposing of firearms through law enforcement to prevent them from reaching the streets or unregulated pawn shops. The event also saw the distribution of 400 gun safes and 1000 gun locks to participants, further promoting safe storage practices.
Despite ongoing efforts, gun violence remains a significant concern, surpassing car crashes in fatalities among children and young adults. The Harris County Commissioners Court had previously approved nearly $1.1 million in ARPA funding for up to eight gun buyback events.
Congresswoman Lizzie Fletcher, who supported the ARPA, highlighted the multifaceted approach required to address gun violence, expressing commitment to legislative efforts. The event marked the collection and disposal of over 4,000 guns in five buyback events, reflecting a collaborative approach involving various entities, including METRO.
METRO's board of directors chairman, Sanjay Ramabhadran, emphasized the importance of community partnerships in addressing safety concerns. Beyond gun buybacks, Harris County has implemented additional public safety initiatives, such as the Community Violence Interruption Program (CVIP) and investments in programs like the Holistic Assistance Response Teams (HART) Program.
Commissioner Briones concluded by underlining the event's role as part of a holistic approach to public safety and the commitment to creating a safer Harris County. The success of the event was attributed to the support from various organizations, including Harris County Precinct 4, Harris County Sheriff's Office, City of Houston, METRO, Houston Fire Department, Houston Police Department, Asian American Peace Officers Association, and Spring Branch Management District.