Houston Dynamo Name Tab Ramos as Head Coach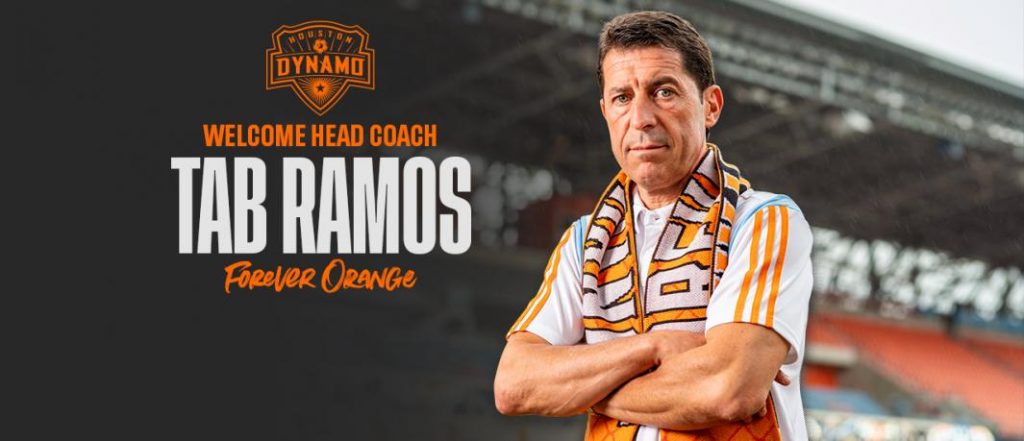 The Houston Dynamo have named U.S. Men's National Team legend and National Soccer Hall of Famer Tab Ramos as head coach, the club announced today.
Ramos, 53, joins the Dynamo after serving as the head coach of the United States Under-20 National Team since 2011 and as the U.S. Soccer Youth Technical Director since 2013. During that time, he led the U-20s to the FIFA U-20 World Cup in 2013, 2015, 2017 and 2019 and three consecutive quarterfinal appearances. He was also Assistant Coach to Jurgen Klinsmann including the 2014 FIFA World Cup in Brazil where the U.S. team advanced to the Round of 16.
Regionally, Ramos led the United States to two consecutive titles at the Concacaf U-20 Championships, including the country's first Concacaf U-20 title in 2017 with a win over Honduras in the final. Ramos followed that up by repeating as champion in 2018 with a 2-0 defeat of arch-rival Mexico in the final.
"I'm excited to join the Houston Dynamo organization and I'm looking forward to the challenge of leading this group of players," Ramos said. "This is a club that has winning in its DNA, a club with a clear vision for the future centered around development and a team-first mentality, and Houston is a city that has tremendous untapped potential as a soccer market, both on and off the field. This is a fantastic opportunity, and I can't wait to get started."
Ramos was one of the greatest and most decorated players in American soccer history. Playing in a variety of roles in the midfield, the Uruguay native earned 81 caps with the U.S. Men's National Team and represented the United States in the 1990, 1994 and 1998 FIFA World Cups, the 1995 Copa América and the 1988 Seoul Olympics.
Ramos was inducted in the National Soccer Hall of Fame in 2005. He was named U.S. Soccer Athlete of the Year in 1990 and was the Concacaf Player of the Year in 1994 after leading the United States to the knockout stages of the World Cup for the first time since 1950.
"I am incredibly excited that we were able to bring a coach with Tab's résumé and background in to lead our team," said Dynamo controlling owner Gabriel Brener. "He has a deep understanding of the needs, wants, goals and challenges that our players face, having been an elite player himself; and he has a deep understanding of how to develop young players from his tenure with the Under-20 national team. Most importantly, we believe he will be a great fit within the club culture that we are working to create on and off the pitch."
After retiring in 2002, Ramos began his coaching career at the grassroots level and has steadily worked his way up the coaching ladder. In 2004 he founded the youth club NJSA 04 in his home state of New Jersey, building it into one of the strongest clubs in the Garden State. He joined the U-20 National Team as an assistant on Thomas Rongen's staff in 2009.
While serving as the U-20 National Team head coach, Ramos mentored numerous future professionals and national team stars such as Christian Pulisic, Weston McKennie, Tyler Adams, Paul Arriola, Kellyn Acosta and Matt Miazga, among others. That background of teaching and coaching young players aligns with the culture of development that the Dynamo have created under Senior Vice President and General Manager Matt Jordan's leadership.
"We are very pleased to welcome Tab to the Houston Dynamo. He brings a wealth of coaching experience to our club, having led the U.S. U-20 National Team program to unprecedented success over the last eight years," Jordan said. "As we went through the search process, we were impressed with how his approach to the game aligned with our club's goals and objectives. We are confident that his experience, coaching philosophy, and ability to teach and relate to players make him the right coach to lead our team moving forward."
On the pitch, Ramos was a trailblazer among American soccer players. He was the first player signed to a contract by Major League Soccer on January 3, 1995 as the then-fledgling league began building toward its launch in 1996. He went on to make 121 appearances for the New York/New Jersey MetroStars from 1996-2002 and was a three-time MLS All-Star.
Prior to joining MLS, Ramos was one of the first Americans to play in Europe, helping to open the door for scores of talented domestic players who have followed in his footsteps. All told, he played more than 270 matches as a professional in Spain, Mexico and the United States.
Ramos spent five seasons in Spain, playing for Figueres in the Spanish Second Division from 1990-92 before transferring to Real Betis in 1992. He helped Betis earn promotion to La Liga in the 1993-94 campaign. After signing with MLS in January 1995, he joined LigaMX powerhouse Tigres U.A.N.L. on loan for their 1995-96 campaign. He was the first American to play for Tigres and helped the club capture its first championship in 20 years when they won the 1996 Copa Mexico.
After a stellar collegiate career at North Carolina State in which he was a three-time All-American and four-time All-ACC selection, Ramos began his pro career with the New Jersey Eagles of the American Soccer League in 1988 and played briefly for the Miami Sharks in 1989 before making the move overseas.
Born in Uruguay, Ramos moved with his parents to Harrison, New Jersey at the age of 11 and later to Kearny, New Jersey. He became a naturalized United States citizen in 1982 and earned his Bachelor's in Foreign Language and Literature from NC State in 2001. He is fluent in English and Spanish.
Ramos becomes the fourth full-time head coach in club history, following Dominic Kinnear (2006-14), Owen Coyle (2015-16) and Wilmer Cabrera (2017-19). Ramos will assume his duties beginning on Tuesday, Oct. 29 and will be introduced to the Houston-area media shortly thereafter.