Houston artists create mural as tribute to 2020 high school seniors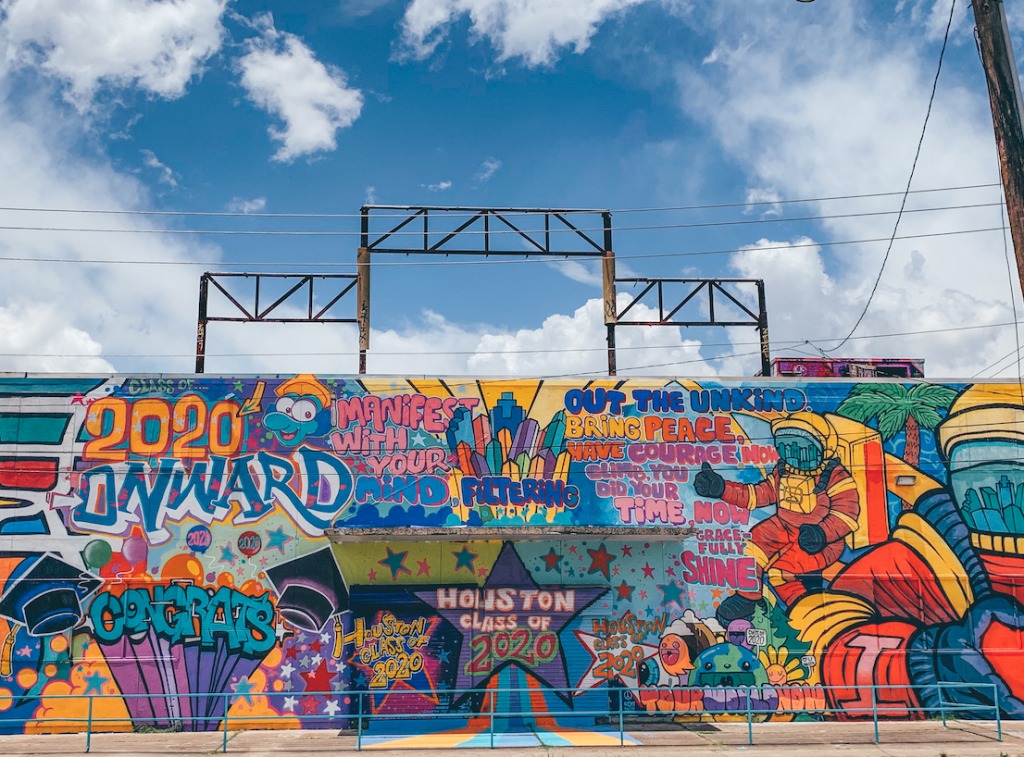 A new mural celebrating the Houston area class of 2020 has been added to the iconic collection of murals in Graffiti Park, 2102 Leeland St. in East Downtown (EaDo). Internationally recognized Houston artist, Gonzo247 collaborated with artists Nicky Davis, JoJo, Sy and Carolyn Figueroa to create a vibrant, colorful piece filled with uplifting messages to inspire members of this year's graduating class who have endured a difficult year, missing many traditional memories because of the COVID-19 pandemic. This collective of accomplished artists donated their time and talents to celebrate the senior class of 2020.
The one-of-kind mural will be unveiled in a video tribute to area high school graduates attending one of several outdoor events hosted by five participating districts: Aldine, Alief, HISD, Spring Branch and Spring on Friday, June 5, at 6:30 p.m. (See details on district celebrations and locations)
Students from any school or district will be able to add custom selfies to their memory books with the mural created just for them as the backdrop. The public is also invited to view the art work in person or see the special video tribute broadcast and/or streaming on most local media outlets. (See media partners and complete schedule)
"Our goal was to create something that visually captured the challenges of the unimaginable year these students have faced, while also encouraging them to move forward," said Gonzo247. "We wanted to remind the class of 2020 that despite the pandemic, opportunities and a bright future await them."
Houston First Corporation is excited to partner with the City of Houston, local media outlets, participating school districts and the artists collective led by Gonzo247 to provide the Class of 2020 with this unique graduation experience.
For the latest updates and to view teaser videos, visit http:// www.Houston2020Seniors.com; #Houston2020Seniors.
Houston First Contacts: Carolyn Campbell (832) 982-9902 carolyn.campbell@houstonfirst.com
Mariauna Hernandez (713) 705-0125 mariauna.hernandez@houstonfirst.com
Mayor's Office of Communications Contacts: Mary Benton (713) 208-6229 mary.benton@houstontx.gov
Tejal Patel (832) 459-9706 tejal.patel@houstontx.gov