Honda recalling 124,000 vehicles for possible braking issue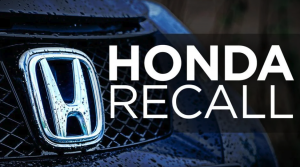 More than 124,000 recent Honda vehicles are facing a recall for a faulty part that could affect braking.
Affected vehicles are:
2021-2022 Honda Pilot
2021-2023 Honda Passport
2020-2023 Honda Ridgeline
2020-2021 Honda Civic
2020-2020 Acura MDX
The National Highway Traffic Safety Administration received the recall report from Honda June 29, 2023.
During the manufacturing process, Honda discovered a nut missing from the brake booster assembly tie rods. Honda then notified the component part supplier, VBS. VBS implemented countermeasures to prevent a reoccurrence, according to the NHTSA recall report.
When the brake pedal is pressed by the driver, a bending load may occur upon the brake booster assembly tie rod studs. As a result, the tie rod studs may break, leading to the brake master cylinder separating from the brake booster assembly. This could lead to a failure to comply with Federal Motor Vehicle Safety Standards (FMVSS) 135 for light vehicle brake systems.
Registered owners will be contacted by Honda around August 8, 2023. The dealer will inspect and replace the missing nuts and damaged brake booster assembly components, if necessary.
Source: www.local3news.com