Hollywood actors' union recommends strike as talks deadline passes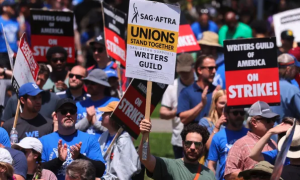 The union representing Hollywood actors has recommended strike action after a midnight negotiation deadline passed with no agreement as the industry braces for the possibility of the first simultaneous strike by Hollywood writers and actors in more than 60 years.
In a statement, the Screen Actors Guild-American Federation of Television and Radio Artists (Sag-Aftra), the union which represents 160,000 actors, said its negotiating committee had voted unanimously to recommend a strike. The national board will decide on Thursday morning.
It said: "After more than four weeks of bargaining, the Alliance of Motion Picture and Television Producers (AMPTP) – the entity that represents major studios and streamers, including Amazon, Apple, Disney, NBCUniversal, Netflix, Paramount, Sony and Warner Bros. Discovery – remains unwilling to offer a fair deal on the key issues that are essential to Sag-Aftra members."
The Sag-Aftra president, Fran Drescher, said: "The companies have refused to meaningfully engage on some topics and on others completely stonewalled us. Until they do negotiate in good faith, we cannot begin to reach a deal. We have no choice but to move forward in unity, and on behalf of our membership, with a strike recommendation to our national board. The board will discuss the issue this morning and will make its decision."
A strike is expected to have an immediate impact on publicity efforts for the summer's top films; the Thursday evening premiere of Oppenheimer in London has been moved to start an hour earlier so the cast can attend regardless of the outcome. Other major commercial films including Barbie and Mission: Impossible – Dead Reckoning Part One have already hosted their world premieres, though their stars will be restricted from participating in further promotional events.
The strike might also delay the Emmy awards until late autumn, or even next year, industry publications reported.
Disney has announced that a 15 July premiere of its movie Haunted Mansion will still take place at Disneyland regardless of the strikes, though the film's actors – including LaKeith Stanfield, Tiffany Haddish, and Jamie Lee Curtis – will not be present.
San Diego Comic-Con, scheduled to begin on 20 July, will be affected as well.
Before the vote, Hollywood's top acting talent had made it clear they were willing to strike. In late June, a letter from Hollywood A-listers, including Meryl Streep and Jennifer Lawrence, urged their union leaders not to settle for a mediocre deal in what they saw as a historically important contract negotiation.
The simultaneous strike of writers and actors is expected to cause serious disruption to the industry, with major ripple effects for other workersand the Los Angeles economy.
The Writers Guild of America strike, which started on 2 May, is entering its third month with no end in sight.
Before negotiations with studios began this year, the memberships of the actors' and writers' unions voted overwhelmingly to authorise a strike if necessary, a sign of deep frustrations among Hollywood's creative workers over what they say are declining shares of studio profits, increasing precariousness of their jobs and concerns about being replaced by artificial intelligence technologies.
The beginning of the strike was marked by strong solidarity from Hollywood's other unionised workforces, including the powerful Teamsters' union, and Sag-Aftra members showed up in solidarity at Writers Guild of America picket lines, even before their own strike was called.
Source: www.theguardian.com