Historic Jaripeo Sin Fronteras Returns in 2019 – Tickets on Sale Friday, March 22
Pepe Aguilar Presents: Jaripeo Sin Fronteras with Pepe Aguilar, Ángela Aguilar, Leonardo Aguilar, Antonio Aguilar Jr., Banda Sinaloense, The Mariachi Zacatecano, Spectacular Rodeo Acts, Charreria, and Special Guests.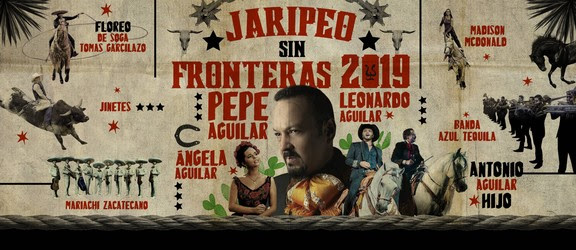 Jaripeo sin Fronteras is the night out that America needs right now: family-friendly, fun, with music, horses, and Mexicans," Gustavo Arellano, Los Angeles Times

Nine-time Grammy-winning Pepe Aguilar will reprise his top selling arena tour PEPE AGUILAR PRESENTA JARIPEO SIN FRONTERAS this year, kicking off  April 5th in León, Guanajuato. The major market tour continues through September with shows in Mexico and the US including:  Querétaro, Aguascalientes, Guadalajara, Ciudad de México, Las Vegas, Los Ángeles, Atlanta, Chicago, Houston, Seattle, Dallas, and more. US dates are produced by CMN, and tickets go on sale this Friday, March 22.  See full itinerary below. It was Pepe's vision to adapt the legendary Aguilar family's touring tradition of Jaripeo for a new generation, an equestrian-musical extravaganza combined with rodeo. The nearly 3-hour show brings together bull riders, trick riders, 15 beautiful horses, rope tricks on horseback, tech and pyro, plus musical performances from Pepe, his daughter Angela and son Leonardo, both of which have been nominated for Grammys and Latin Grammys.  It's a multi-generation show for all ages.

During his equestrian performance, Pepe will ride several of his beautiful Andalusian horses, 9-year-old white mount Tornado and 14-year-old black mount Botas, 8 year old Poncho and 9 year old Hércules. Andalusians are the Pure Spanish Horse or PRE (pura raza española), a breed from the Iberian Peninsula, where its ancestors have lived for thousands of years.  They are known for their intelligence, sensitivity and docility.
 
The 2018 edition of the tour JARIPEO SIN FRONTERAS was named one of the top tours of the year. Selling out huge arenas like American Airlines Center in Dallas (12,000) and SAP Center in San Jose (11,000) in the US, as well as El Palacio de los Deportes in Mexico City, La Plaza de Toros Nuevo Progreso in Guadalajara and Plaza Monumental in Aguascalientes, México.
     

Fans and critics loved it:
"… a first-rate production," -Hoy Dallas

" This will undoubtedly be one of the most remembered tours of the great guy from Zacatecas," -La Opinion

"…full of emotions and takes you to a little piece of Mexico," – El Gordo Y La Flaca

Pepe Aguilar made his debut at Madison Square Garden at the age of three performing on horseback with his father Antonio Aguilar who, with his family, toured the entire American continent with the Espectáculo Ecuestre Internacional and Rodeo Show. It was the first equestrian show in the history of Latin show business, built around various life stock disciplines with horses, bulls, buffalos, monkey's, and more.  "It was like a Ringling Brothers Mexican Style.  He even had folkloric ballet."  It was one of the most successful shows of the time.  Don Antonio, Doña Flor Silvestre (both parents were acclaimed actors from the golden age of Mexican cinema) along with little Toño and Pepe Aguilar changed the direction of Mexican music forever and became a standard by which the genre was judged.  

Pepe Aguilar went on to become one of the most important performers/producers/songwriters in Latin music, selling more than 12 million albums, earning 15 #1 records and numerous awards including four Grammys and five Latin Grammys and a Star on the Hollywood Walk of Fame next to his father.  He has collaborated with artists such as will.i.am and Julieta Venegas. Aguilar picked this moment to reclaim the traditions of jaripeo for himself, his family and his fans.  
 
ABOUT CMN ENTERTAINMENT:
CMN is the authority in Latin entertainment. As a multicultural creative agency, our common goal is to create and build unique experiences between fans, artists and brands.
 
Henry Cárdenas, entrepreneur, philanthropist and founder of CMN, has been pioneer in bringing Latin entertainment and sports to the United States. The Chicago-based company has more than 100 full-time professionals constantly creating cutting-edge marketing experiences and producing the best events in the country.  To learn more about CMN and its roster of artists, visit www.cmnevents.com or follow us at @cmnevents.